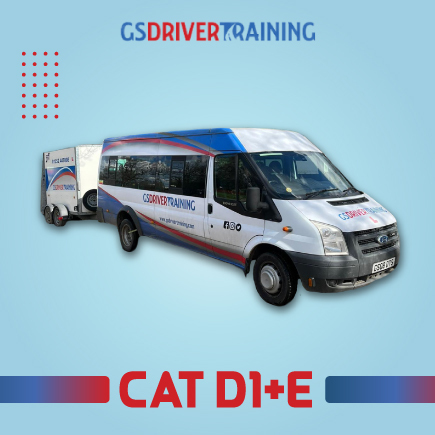 D1+E 17.5 Hour Course - Additions (Cat D1+E)
£1,394.00
£1,394.00
(

In stock

)
Description -
This D1+E 17.5-hour course only teaches you how to operate a minibus and tow a trailer behind it. You must have a D1+E licence for this in order to drive the same vehicle. You will have the opportunity to receive self-training from our knowledgeable staff at GS Driver Training. The combined weight of both the minibus and the trailer should not exceed 12,000 kg, while the weight of the trailer itself should not exceed 750 kg. 
Additional Courses
Everyone needs to improve, but the most important thing to consider is how you will get the chance to improve. There's no need to worry anymore because GS Driver Training gives our clients the opportunity to learn new things. We provide a few related additional courses to the D1+E 17.5-hour course for this purpose.
Flexible Hours
Flexibility with your hours is important since without it, you won't be able to learn new things or take on new challenges in your life. Because of this, GS Driver Training provides its clients with three different time slots so they can choose from a variety of driving courses at their convenience. We provide our clients with weekend, part-time, and full-time time slots.
Professional Trainers
You can enroll in GS Driver Training if you want to learn how to drive a minibus and can tow a trailer behind it. Professionalism is crucial in all learning. We have a highly skilled team that will provide you with expert guidance and assistance anytime you need it.
Reasonable Costing
Because you can't have the best services and the lowest pricing at the same time, you frequently find yourself forced to make a decision. However, you may acquire excellent services from our qualified staff at GS Driver Training, along with a few other courses, for a very reasonable fee. Thus, enroll in GS Driver Training right now.