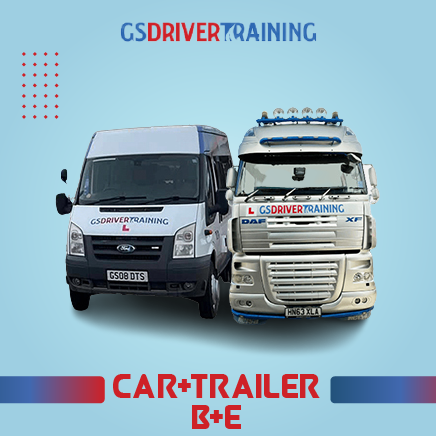 2 Day Courses - Book (Car + Trailer B+E)
£683.00
£683.00
(

In stock

)
Description -
If you want to tow a vehicle with your car then you have to complete the B+E 2-day course, this course is also known as the B+E car+trailer course. This course will guide you properly and clear all your doubts so that you can easily operate a vehicle that can tow a trailer. This course will allow you to drive a vehicle that fulfills the needs of category B, even if the car towing a trailer is about 3,500 kg.
Some Safety Measures that You Have to Follow While Towing a Trailer on the Road
The first and most frequent step is to verify the vehicle's precise towing weight. 
 
You must install the mirror extenders if you are towing a trailer behind a vehicle. 
 
The trailer's reversing turns are trickier than any other turns or U-turns. Not everyone is cut out for this; a great deal of talent and practice is needed. 
 
All of the trailers that the vehicle tows must have the same licence plate as the vehicle.
1. Is there a Requirement for any other special licence for towing a trailer?
Anybody can tow a trailer with a car all you have is a valid driving licence issued by the government. This will allow you to operate a vehicle up to a maximum authorized mass (MAM) of 3,500 kg according to recent rules. For those who obtained their licence before January 1, 1997, the towing limit is 750 kg.
2. What is the Particular Age Limit for Towing a Trailer?
Your age should not be less than 18 years, if you are eighteen years old or above only then you will be allowed to tow a trailer. According to the rules and regulations you are advised to know the behaviour of a car and a trailer when on the road.
3. What are the Speed Requirements while Towing a Trailer?
The maximum speed limit for the car and towing trailer should be around 60 miles per hour while for other vehicles the speed limit should be around 50 miles per hour.