GS Driver Training offers LGV, HGV Training and PCV Driver Training Courses in the UK
If you want to get your HGV driver's licence, we can make the whole process easy for you. Our driver training is award-winning, and we pride ourselves on our high standards. We are based in Surrey in the UK. We train in our vehicles, which we all take pride in. Our training courses are flexible to fit into as we offer training in hours, so you will be sure to get what you need. We can point you in the right direction if you are looking for an HGV career. Our HGV training is starting to be noticed, and we won the best HGV training company in the UK for 2021, 2022 and 2023.
One of the most important things when training for your HGV licence is the instructor you get, and this is the key to passing your HGV test. We can not only offer the best instructors, but we are also one of the few HGV schools that can offer both male and female instructors. The vehicle you drive is also essential. It needs to be a comfortable driving experience. It is also crucial for you to turn up on time, ready to train for the day.
Before starting your lorry licence, you must undergo an HGV driver's medical and submit the relevant forms D2 and D4 (these can be found by clicking the link below). On completion, you must send these forms, plus your photo licence, directly to the DVLA for approval. We can also guide you through this process, saving you time and money. Your training can begin once you're in Possession of your provisional licence. If you already have your HGV licence, you will need to look at the back of your driving license to check when you will next need to renew your licence.Click To Order D2-D4 Forms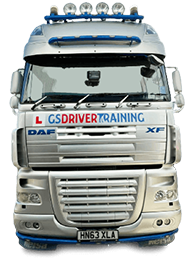 Professional HGV Training Driver Training, UK
Looking for LGV/HGV driver training in the UK? Then you're in the right place. For many years, GS Driver Training has provided high-quality services. We are also known for our high-quality training and exceptional first-time pass rate. We excel at excellent customer care for all our clients.
We offer many different HGV courses so you can find the right HGV course for you. We offer excellent value HGV training. We train in and around the Guildford test centre. Many students gained their HGV licence with us and are now HGV drivers. We are a one-stop solution for all your driving needs; whether you're looking to gain a C1 qualification or CPC training, we have the expertise to cater for your training needs, whether you are new to training or looking to upgrade your current licence.
Obtaining an HGV (Heavy Goods Vehicle) license involves several steps, including training and passing tests. Here's a general overview of the process:
Eligibility and Medical Requirements:
Ensure you meet the eligibility criteria, including age requirements ( 18 or older) For LGV and 21 or old) for PCV and medical fitness standards. You need to undergo a medical examination by a registered doctor to confirm your fitness to drive HGVs.
Provisional License:
- If you don't already have a full car driving license (Category B), you'll need to apply for one. Once you have a car license, you can apply for a provisional entitlement for the HGV license you wish to obtain.
Practical Training (Category C or C+E):
- Enrol in a practical training program with an award-winning HGV training provider. HGV Training is divided into three categories:
Category C1 (Rigid Vehicles):
Training focuses on driving rigid HGVs over 3.5t up to 7.5t
Category C (Rigid Vehicles):
Training focuses on driving rigid HGVs.
Category C+E (Articulated Vehicles):
Training is for articulated HGVs.
Our Courses
HGV/LGV/PCV Driving Licence Test
The HGV/LGV/PCV driving test consists of these key components: The HGV/LGV/PCV Theory test, The HGV/LGV/PCV Practical test. To gain your licence successfully, you must pass your theory test first and then move on to your practical driving test.
The HGV/PCV Theory test is in two parts:
Multiple Choice Test:
The Multiple Choice test comprises of a series of questions related to road safety, vehicle operation, and HGV-specific topics.
You'll be presented with a question and a list of possible answers. Usually, you'll have to select the correct answer(s) by clicking on the option(s).
The questions cover various topics, including traffic signs and signals, road regulations, vehicle safety, load securing, and other essential aspects of safe HGV driving.
This Multiple-choice test is 1 hour and 55 minutes.
Within this time, you will be required to answer 100 Multiple-choice questions,
You must score 85 out of the potential 100 marks to pass this test.
Hazard Perception Test
The Hazard Perception test consists of 19 one-minute videos featuring 20 Hazards. To identify the Hazards, you must correctly click on the screen for any developing Hazards you see. A developing Hazard is anything that will cause you as a driver to take action on the road. Clips are scored 1-5 points depending on how quickly you identify a Hazard. The pass mark for this test is 67 out of 100. GS Driver Training can supply all the relevant training needed to assist you in passing this test. The test now uses CGI, so when you are doing your training, make sure to look out for the latest training. This test is to prepare you before you get into an HGV vehicle to ensure you can see hazards approaching.
Driver CPC
Driver Certificate of Professional Competence (CPC) is a qualification that is required for anyone who drives professionally, either as part of their job or to make money. It is obligatory for commercial drivers in the UK, who are responsible for driving goods vehicles of more than 3.5 tonnes and passenger-carrying vehicles of 9 seats or more. Drivers must complete 35 hours of periodic training every five years to ensure their skills and knowledge remain up-to-date. It is also beneficial for drivers to continue their professional development, maintain their licences, and remain safe in their working environment. If you don't have your CPC card, you may have to do your initial CPC, which is a theory and practical demonstration test in and around the vehicle. What does the Driver CPC card look like? It looks a bit like a car licence, only blue.
LGV/PCV Practical Driving Test
The LGV/PCV Practical Driving test elements are:
Reverse Driving Test CPC Mod3a- This must be obtained before undertaking your practical on-road driving test.
Five show-and-tell questions
You must drive competently continuously for 1 hour
You must drive independently for 10 ten minutes following road signs
During the test, you must not exceed more than 12 minor Driving faults
Please note:
An accumulation of more than 3 of the same minor faults may result in failing your test.
In order to ensure you are ready to take your practical test, please ensure you have completed your medical, passed and obtained your theory test certificates and passed your reverse test. You must have completed everything to sit your Practical Driving Test. A qualified DVSA examiner will ensure you meet the required standard. You will be briefed in the vehicle on how the test went.
HGV Training at GS Driver Training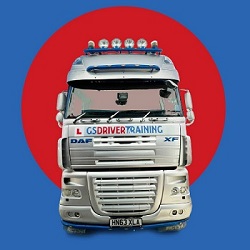 Acquire the Best quality HGV Training: GS Driver Training.
Multi award-winning GS Driver Training can assist you with the most efficient quality training, with our highly qualified instructors we can assist you in fulfilling your new driving experiences by teaching you in our wide range of vehicles. Our goal is to ensure all our clients receive exceptional education and advice to enable you to pass your test. Our affordable training is highly recommend and we will endeavour to assist you to gaining your new licence. Help you be come one of the many HGV drivers that are on the roads today.
You can contact us directly by calling the number above or feel free to email us at: gary@gsdrivertraining.com
Our HGV Driver Training Courses
Best HGV Training School of the year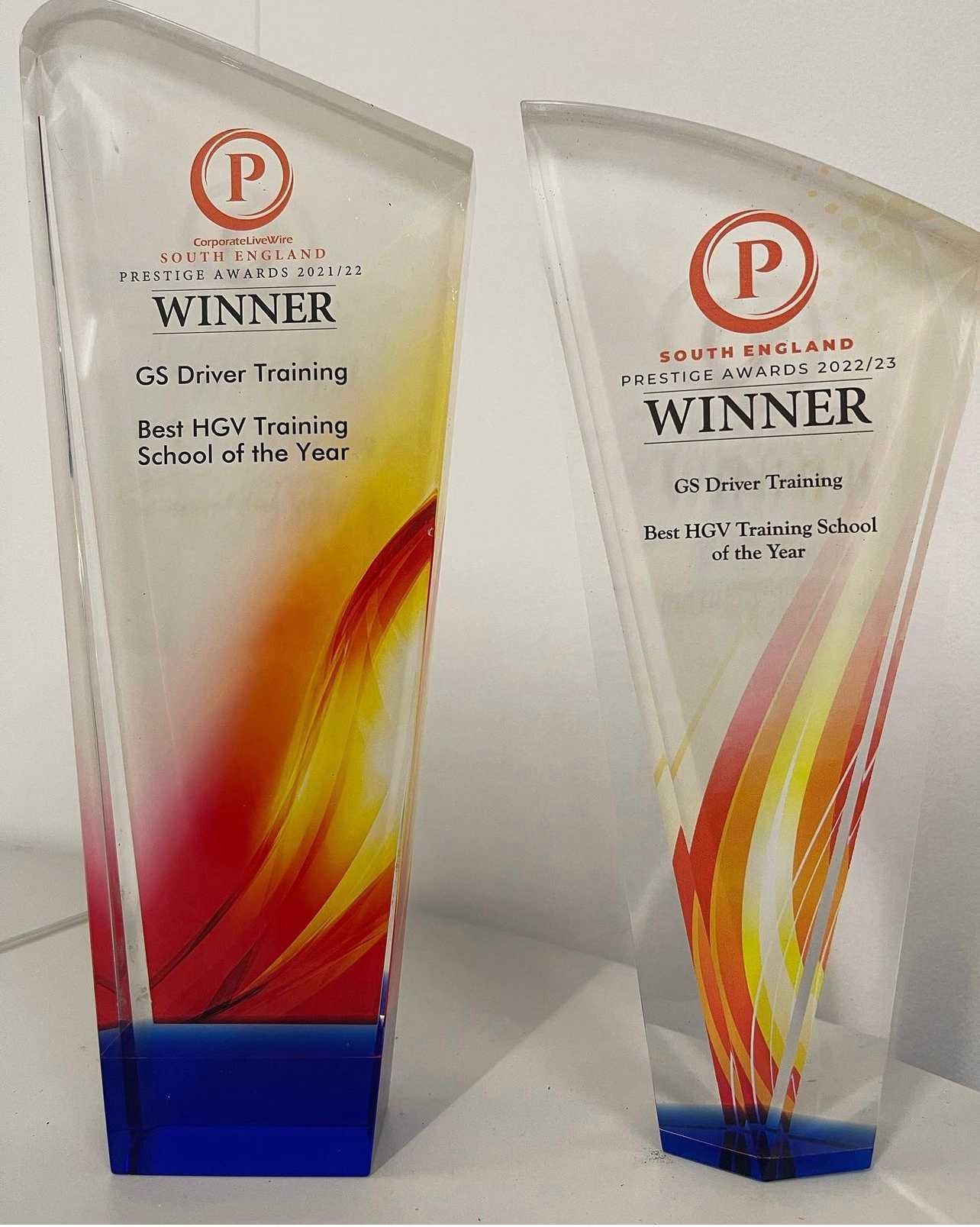 Why Choose Us?
We are a small family run company based in Surrey and pride ourselves on the high quality HGV driver training we offer. We understand that learning to drive a large vehicle may be daunting, please do not worry our friendly and experienced team will ensure that you are made to feel safe and comfortable from the start. We can offer both male and female driving instructors. We will help you not only to pass your HGV/PCV test but to become a safe and competent driver ready for your HGV career on the road. The prices for our HGV courses are competitive, we also offer tailored options for additional training such as refresher courses. We offer automatic HGV training but you will still get the full manual entitlement. To find out more information about our driving training school visit our DRIVER TRAINING COURSES section where you will find all the information you need. If you are looking for HGV training in Surrey, you won't be disappointed.
Years of Experience in HGV/LGV Training
Vehicles in a Modern Fleet
HGV Training Courses with DVSA Accreditation at Reasonable Prices
Expert and Professional Training
HGV drivers
PCV drivers
lgv driver training courses
Satisfied Customers
We provide professional HGV services to our clients leveraging our years of experience while keeping the training costs low and quality high.

 

"Passed my HGV training Class 2 a few weeks ago and have already been promoted at work! These guys and girls are great, they make sure you are relaxed and happy and are very supportive, knowledgeable and professional. I would highly recommend them to everyone looking to advance their driving career! Their training sticks too... Every time I stop at the lights, or a junction I mutter under my breath "Tyres and tarmac" ;-D ... Well done guys""

Steve Panter