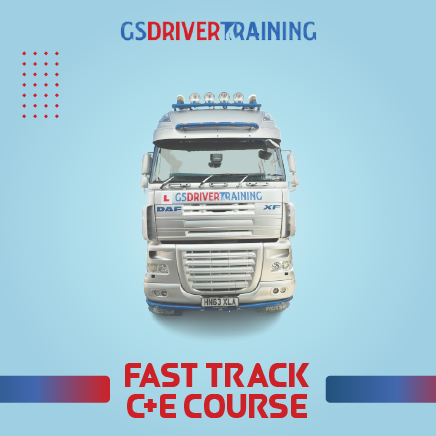 Fast track C+E 40 hour course - Additions & CPC (Fast Track C+E Course)
£3,948.00
£3,948.00
(

In stock

)
Description -
Fast track C+E 40 Hour Course is very beneficial for you. This course will save your time as well as money. If you are going to apply for the Fast Track C+E 40 Hour Course then you can directly go for the CAT C+E test without passing the CAT C test. Now, there is no delay, because you can immediately apply for the jobs of a large range of HGV/LGV after the completion of your Fast Track C+E 40 Hour Course test.
Additional Courses
GS Driver Training provides you a package of extra knowledge which includes additional courses apart from the Fast Track C+E 40 Hour Course. These additional courses will help you to boost your driving ability and enhance your learning skills.
CPC Certificate
CPC card permits you to drive the HGV vehicles, without this CPC card you will not be able to drive the large or rigid vehicles on the road. So you need to keep your CPC card with you. You should have to update your CPC card every 5 years by completing the CPC 35-hour course.
Reasonable Prices
GS Driver Training offers you high-quality learning, with some additional courses with one permanent Fast Track C+E 40 Hour Course.  Here you will get efficient learning at a very reasonable price.
Experienced Instructors
You will learn the Fast Track C+E 40 Hour Course under our well-experienced instructors. GS Driver Training is best for you in terms of quality learning, we will make sure to provide you with that much impactful learning so that you will be a professional driver.