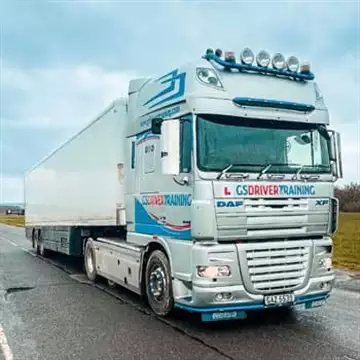 Truck Driving Surrey
Dunsfold Aerodrome, Cranleigh
REF: GSHGV4
Drive a 44-ton DAF truck at Dunsfold!
Hosted by a professional driver training school
Truck & Bus combo experiences available
You'll be driving on the track in your truck
This voucher includes
365-day Exchange
Instant E Voucher
Same-day Dispatch
Choice of Packaging
Valid for 12 Months
What's Included
Drive a 44 ton DAF truck
You will be taught on a 1:1 basis by a qualified instructor
45 & 60-minute truck sessions are available
All experiences include a 15 minute welcome, introduction, safety briefing and demo drive
HGV Driving Experience
45 minute session
A minimum of 25 minutes drive time with up to two reversing manoeuvres and one lap of the airfield
Extended HGV Driving Experience
60 minute session
A minimum of 40 minutes drive time with up to three reversing manoeuvres and one lap of the airfield
HGV & Bus Experience
60 minute session
A minimum of 20 minutes drive time of each vehicle with one reversing manouvre and one lap of the airfield
What Can I Expect
Go truck driving in Surrey with this professional HGV training school! From Lutons and box vans, to artics and drop-siders, welcome to the world of Heavy Goods and Large Goods Vehicles. These fab experiences give you an insight into life as a trucker.
When completing your experience with this multi award winning driver training school, you'll be in safe hands! As well as having highly experienced instructors, the important bit to note about this particular truck driving school in Surrey is that all the vehicles are owned and maintained by them.
You'll be driving a 44-ton articulated lorry. This Surrey school has a fleet of DAF trucks for HGV Training. And they're just like the ones you see pounding the inside lane of the motorways the length and breadth of the country. These lorries are imposing and nothing can beat the driver's view from way up high!
If you've never been in the cab of a proper articulated truck, it's pretty cool in there. For the long-distance lorry driver, their truck is their office and their home. You'll see the driver's seat is all high tech and fully adjustable, yet as comfortable as an armchair for all those cross-European trips.
Sitting in the cab of the DAF truck, you'll feel like the King or Queen of the road, as you look out across the tarmac at Dunsfold circuit, where your truck driving experience will take place. But will you be top of the class when it comes to driving and manoeuvring this beast?
As you drive around the track, attempt to reverse and try to brake as smoothly as possible (just imagine you're on the M25 in Surrey and all of a sudden it's a sea of brake lights ahead), you will really start to feel like a fully-fledged Class 1 licence-holding truckie.
We are offering 45 and 60-minute truck driving sessions at this Surrey centre, so take your pick, get ready to get the lorry into gear and get trucking. If you want double the driving fun, go for our 60-minute Truck & Bus combo voucher!
Availability
Selected weekends throughout the year
Dates and session times are subject to availability and weather conditions
Location
Dunsfold Aerodrome in Cranleigh, Surrey
Suitable For
Minimum age 18
A driving licence is not required
Spectators
Spectators are welcome to come along and watch but must stay in their vehicle whilst on the reversing area