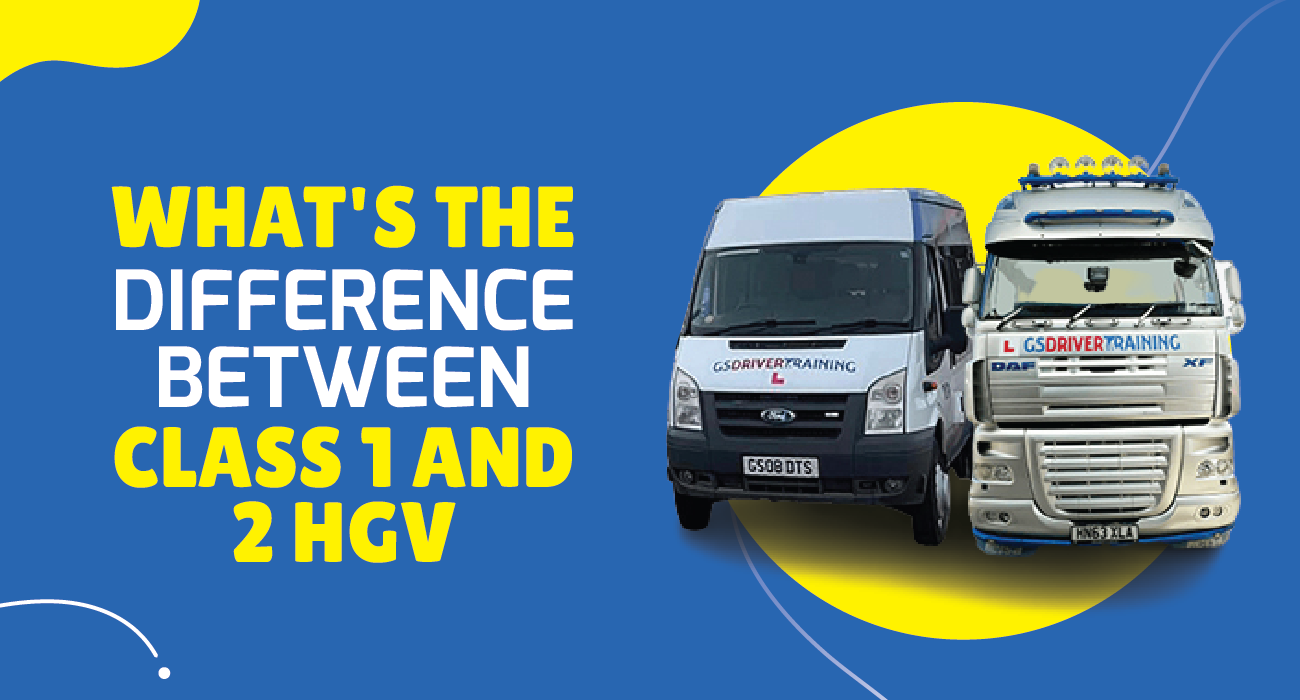 We've all heard of HGV drivers, but what's the distinction between HGV Class 1 and HGV Class 2? The difference is straightforward: a Class 1 licence lets you drive a category C+E vehicle, essentially an articulated lorry or artic. A Class 2 licence entitles you to operate a Category C vehicle, also called a rigid.
Many training companies let you train and then take your class 1 (C+E) test at the end, but many drivers first obtain their class 2 license and then take their class 1 test.
Significant distinctions between HGV classes 1 and 2
How to Obtain the  HGV Licence
Cost of  the HGV licence
The HGV Driver Wage
How to obtain the HGV Licence
Then there are four steps to getting your licence depending on its class;
1. Part 1 is divided into two sections:
Part 1A is a theory exam. To pass, you must answer 100 multiple-choice questions and achieve a score of 85 or higher. This examination costs £26.
Part 1B is hazard perception, with 100 questions, but these are video questions in which you must identify the hazard. You need to pass a test with a score of 67 or higher out of 100 to progress to the next stage of obtaining your HGV Licence, and the test costs £11.
 
2. Part 2 consists of your CPC case studies and costs £23.00.
3. Part 3 is the definite driving test for your HGV licence, which costs £115, but you will need to factor in lessons, which usually cost around £1200 and include four days of coaching with your HGV driving test on the fifth day. You will have your HGV licence once you have passed Part 3, but you will not be able to drive until you have passed Part 4 professionally.
4. Part 4 is a practical demonstration that includes walking around and inspecting the vehicle and learning how to run and operate it. Part 4 costs £55, but you'll need lessons, which cost about £190.
 
You now possess your HGV Class 2 (C class) license and can drive a rigid, but you must obtain your tacho card before going commercially. The DVLA costs £32 and can take up to two weeks to arrive.
Your driver CPC card will be mailed to you shortly. You can now drive a commercial class 2 vehicle.
To qualify as a Class 1 (C+E) driver, you must pass one more practical test, which costs £115.
Cost of an HGV Licence
To begin, you must obtain a provisional HGV licence and be at least 18 years old. You must already have a driver's licence (a class B licence).
Following that, you must obtain a D2 form from the DVLA and a D4 form to get your provisional HGV license.
The D2 form is completely free.
The D4 form serves as your medical record. To become an HGV driver, you must first pass a medical and then have a medical every five years.
Your GP can arrange for your medical, which will cost approximately £120.
Many private companies can perform your medical at a much lower cost – starting at around £50.
After you have your D2 and D4, you should be able to get your provisional licence in about three weeks.
HGV Driver Wage
A cat C or Class 2 driver (more than 7.5 tonnes but no more than 32 tonnes) can earn a range of £7.00 and £13.50 every hour.
A cat C+E (class one, articulated, drawbar kind of car vehicle) may earn between £8.00 and £15.00 per hour or more.
As reported by a recent study, the average salary for  HGV drivers in 2019 is around £32000, which may vary depending on experience. 
More experienced drivers, on the other hand, can earn more than newly qualified HGV drivers, but you have to start somewhere.
Also Read: What is the Difference between HGV and LGV
You might be Interested In: