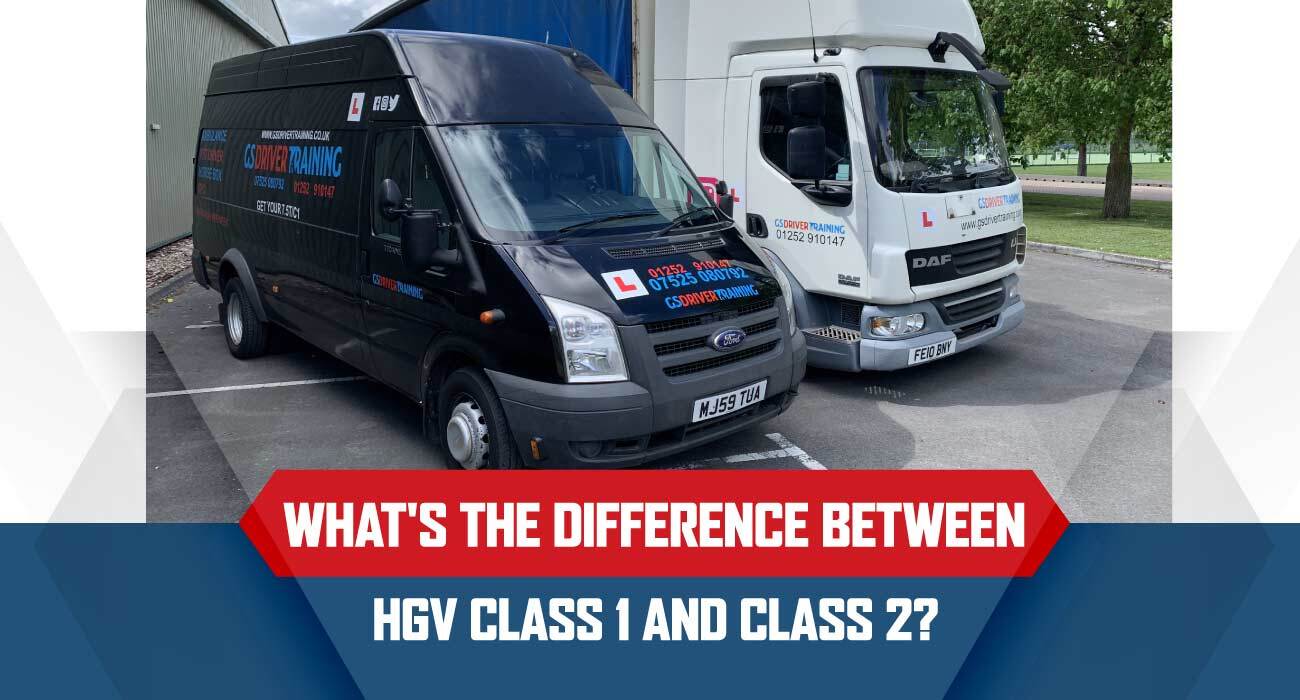 Britain is running short of HGV (Heavy Goods Vehicle) drivers. The shortage is approximately 100,000 HGV drivers, making it a daunting task to supply fuel and other essential goods. Payment complications and driver retirement are the two key reasons causing the shortage of HGV drivers in Britain. Other quarters have linked this problem to Brexit issues. However, this indicates a massive demand for HGV drivers in Britain. So if you want to become an HGV (Class 1 or Class 2) driver, there are essential things you need to understand:
HGV Driver Requirements:
You must have heard a little about HGV drivers, but not everyone knows the difference between HGV Class 1 training and HGV Class 2 Training. The difference is that an HGV Class 1 driver drives a category C+E vehicle, i.e., an artic or an articulated lorry. In contrast, an HGV Class 2 driver drives a category C vehicle, i.e., a rigid vehicle. While you can take your Class 1 test at the end in many companies, many drivers prefer getting their Class 2 license before taking the Class 1 test. The procedure can be complicated, but we'll explain it.
Let's Take a Look at Various Requirements:
First of all, you must process your provisional HGV licence. To do so, you must be at least 18 years old. At this point, you already have your Class B licence.
Next, you must acquire a D2 form from the DVLA and D4 form necessary for your provisional HGV licence processing.
All drivers looking to become HGV drivers must pass the medical requirement to become HGV drivers. Fortunately, accessing the D2 form is free. Note that the D4 form outlines your medical history. You must conduct your medical after every five years.
You must pay around £120 to get your medical done. But it would be much cheaper to do your medical at a private company (you'll pay around £50).
Once you've processed your D2 and D4 forms, it takes about three weeks to get your HGV provisional license.
The Process of Getting Your HGV Licence
Getting your HGV licence involves four segments. It helps to read more about them to understand what's expected:
PART 1:
Part 1 features two parts:
Part 1A: It's essentially a theory test featuring 100 multiple-choice questions. You must answer all of them and score 85 or more to pass the test. Also, you have to pay £26 to take the test.
Part 1B: It's a hazard perception test with 100 questions. Since they're video questions, examiners expect you to spot the hazard. The Pass mark is 67 or more out of 100. The test costs £11.
PART 2: This part covers your CPC case studies. You have to pay £23 to undertake them.
PART 3: The actual HGV driving test costs around £115. But when you include lessons, it could cost around £1200. The training takes four days, with the HGV driving test on the 5th day. Once you're done with this training, you'll have your HGV license, but you'll not be allowed to drive until you pass part 4.
PART 4: This practical demonstration involves checking, running, and operating the vehicle. It costs £55, but when you factor in lessons, you must pay £190.
After successfully going through all these parts, you'll have your HGV class 2 licence. You can drive a rigid, but you must get your tacho card to drive commercial class 2 vehicles. Once you pay £32, the DVLA will take two weeks to process your tacho card.
You must undertake an additional test if you're eyeing the Class 1 C+E driving licence. The practical test costs £115.
General overview of HGV (Heavy Goods Vehicles) and LGV (Large Goods Vehicles) training
Heavy Goods Vehicles (HGV) and Large Goods Vehicles (LGV) training is becoming increasingly popular for anyone looking to embark on a truck-driving career. With the necessary training, individuals can apply for a licence to legally drive HGVs and LGVs, allowing them to access various job opportunities in the transport industry. HGV and LGV training courses typically provide the necessary skills and information required to meet the minimum standards set out by the Driver and Vehicle Standards Agency (DVSA).
The duration of the courses varies depending on the type of vehicle and the driver's experience, but typically they take several weeks or more to complete. During the training, there is an emphasis on both practical and theoretical teaching to produce safe and competent drivers. At the end of the course, participants are required to complete a practical test – and on passing, they will be awarded the relevant licence.
Benefits of getting Trained in HGV and LGV
Getting the proper training and qualifications to drive heavy goods vehicles (HGVs) and large goods vehicles (LGVs) can benefit anyone looking to enter the transport industry. HGVs and LGVs bring opportunities for better wages and career prospects, and they can also open doors for drivers in roles like transportation operations, management and safety. With the proper training, you can stay ahead and become a qualified driver for these vehicles, ensuring that you have the relevant skills and knowledge needed to travel safely and confidently.
Additionally, you can enjoy the convenience and flexibility of choosing when and where to work and the added benefits of contributing to a greener, more sustainable society. As a trained HGV and LGV driver, you are helping to reduce the environmental impact of goods transportation worldwide, further demonstrating your commitment to responsible driving.
What You Need to Know About Class 1 HGV Training
Class 1 HGV Truck Driver training is an essential skill to develop if you want to work in the road transport industry. It ensures that you are trained to the highest standard and aware of the safety regulations and practices that all HGV drivers must be mindful of. The required certification for Class 1 HGV Drivers means that you will be highly trained and able to safely and confidently operate large goods vehicles, helping to transport goods around the country.
With comprehensive training courses to ensure you gain the necessary skills for the job, earning the Class 1 HGV qualification can open up various possibilities. The training will provide you with knowledge and experience in driving, loading, unloading, and manoeuvring heavy goods vehicles, ensuring that you can reach the highest safety and efficiency whilst performing your job. All in all, the benefits of gaining professional HGV class 1 training are not to be missed.
Types of class 1 HGV licenses
Having an HGV class 1 license can open many doors, such as expanding your career opportunities. This driver's license is required to operate large vehicles, usually articulated lorries and trucks weighing more than 3.5 tons. There are countless types of class 1 HGV licenses, but some of the most common include tipper, tanker, livestock transport and refrigerated transport.
To become a qualified HGV class 1 driver, you must be over 21, have a valid UK driver's license and complete an approved training course. Once you have all the qualifications, you can start applying for jobs requiring HGV class 1 licenses. It's essential to stay up-to-date on industry-specific regulations and necessary safety protocols to ensure your safety and the safety of all other drivers. With an HGV class 1 license, you can open the door to a new industry and various jobs to suit different interests.
Process of obtaining a Class 1 HGV licensing
Obtaining your Class 1 HGV licence can be a long and drawn-out process, but with the help of a good HGV training course, the ease of meeting the requirements may become less strenuous. The process begins with a minimum age requirement of 18 years and taking a Driver Certificate of Professional Competence (CPC) theory test.
This test will be part of every future HGV driver's life since it is mandatory for anyone applying for a Class 1 HGV license. Following the test, you will begin your driving lessons and practical exam, and upon completion of these, you are ready to receive your license. It is essential, however, to remember that any of these steps may require additional application processes and time to process. All in all, ensure you are prepared for the process, as it is no small task, and use all available resources to ensure your success.
Types of HGV and LGV Driver Training Courses 
HGV and LGV (Large and Heavy Goods Vehicle) Training allows people to become certified to drive vehicles such as lorries, tankers, and vans legally and safely. The types of training available depend on the class of vehicle the operator wants to drive and the license they wish to obtain. Category C HGV training allows a driver to obtain a license to drive standard Class 2 vehicles, such as a lorry.
In contrast, Category C+E HGV training will enable drivers to obtain a license to drive articulated trucks, otherwise known as an articulated lorry. Class 1 driving licence is the hardest to gain and the one you should aim towards to be a perfectional driver. There are many options for HGV training courses, so speak to one of our experts to ensure you pick the right one.
Train with the Best 
If you're looking for the best HGV training available, look no further than the multiple award-winning HGV training provider. Their years of experience and commitment to excellence have built an impressive reputation as one of the leading providers of HGV training on the market.
They provide all the skills and knowledge required to become a fully certified HGV driver and their courses have a high success rate. With their friendly and knowledgeable instructors, you can be sure you will receive the best training possible. Whether you're a complete beginner or a seasoned driver, these experts have the resources and expertise to help you become the best HGV driver you can be.
Useful links 
get careers advice in Scotland
get careers advice in Wales
Driver CPC Classroom-based training
If you want to gain your lorry licence, Driver CPC Training offers the perfect classroom-based training to help you get there. The course, which the DVSA regulates, covers all aspects of driving and helps you better understand the duties and responsibilities of a professional driver.
You'll learn about the legal requirements of your role, the environmental impact of your driving, and the basics of vehicle loading. You'll also get to practice driving in virtual and real life. With a fully certified instructor, you can be sure that you will be well prepared to face the CPC tests and the roads ahead.
FAQ
Q: What is HGV driver training?
A: HGV driver training is a process for individuals seeking a Heavy Goods Vehicle (HGV) licence. This process involves a range of courses designed to ensure drivers confidently and safely operate HGV vehicles on the roads.
Q: How can I obtain an HGV licence?
A: To obtain an HGV licence, individuals must first apply for provisional entitlement, ensure they meet the required age and medical criteria, and then complete the process by completing the required qualifications and tests.
Q: How long does HGV driver training take?
A: The duration of HGV driver training varies depending on your circumstances and the type of licence you are applying for. Generally, individuals can expect to spend one to four weeks completing their training.
Q: How can I train with confidence?
A: When undertaking HGV driver training, the best way to be confident is to ensure you select a reputable and accredited HGV training provider. Additionally, take advantage of the opportunity to practice and have your instructor answer any questions to feel confident you understand all aspects of the training process.
Also Read: What is the Difference between HGV and LGV
You might be Interested In: