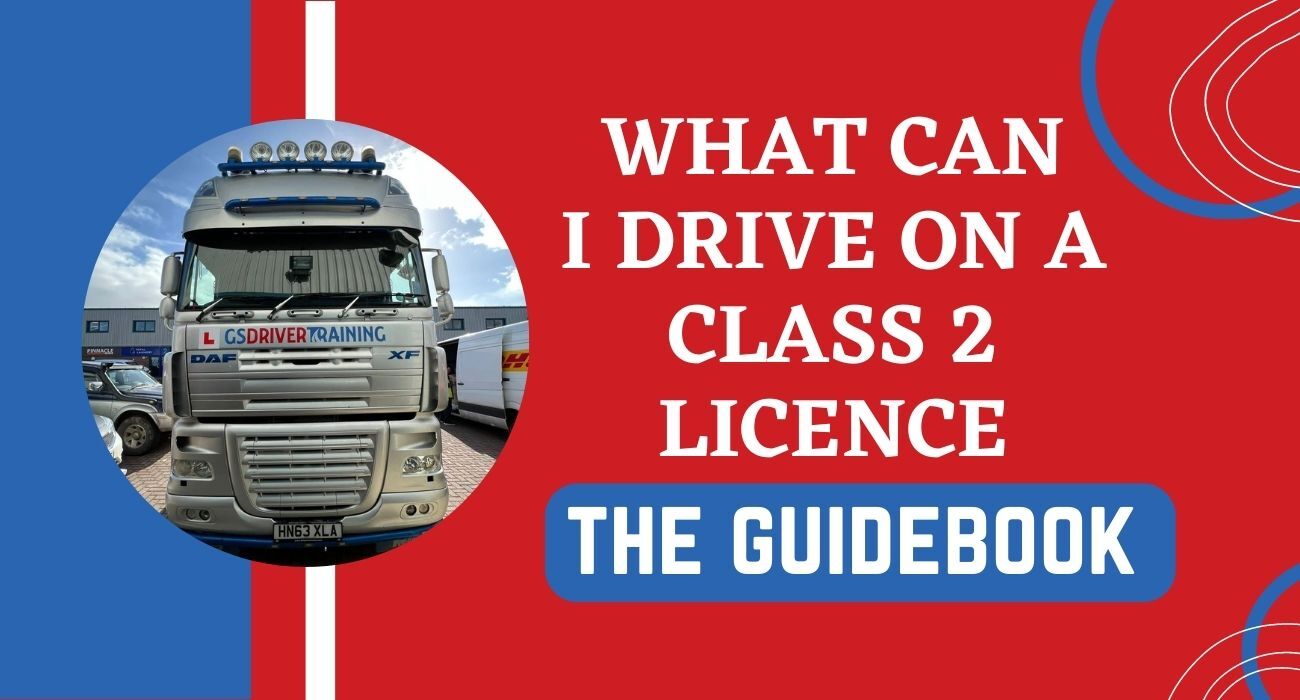 Are you new to the HGV industry or want to upgrade the licence? In both cases, if you wish to know about a class 2 licence and want an answer to the question, ''What can I drive on a class 2 licence ?'', this guidebook is for you.
First, Let us understand the class 2 licence and how to qualify.
How to get a HGV Licence lgv class 2 licence
This licence is like any other LGV/HGV licence you get. With this licence, you can drive vehicles weighing more than 7.5t and less than 32 tonnes. If you are new to the industry, first apply for provisional entitlement at the DVLA to operate any heavy goods vehicle and meet the medical standards to drive an HGV class 2 vehicle. You must have a full car licence and be over the age of 18 before you can start to become a lorry driver. https://www.gov.uk/become-lorry-bus-driver
HGV provisional application form.
You must order the D2 and the D4 from. Order the forms. Click the link to order. Some post offices may have them In stock if you are in a hurry. When filling out the D2 form, apply for all the entitlements. You never know when they will come in handy. Whether you are using for HGV or bus, tick them all. Once you have applied for your
Driver Medical
Before you can send off for your provisional entitlement, you must pass a driver's medical, which a doctor must do. You can use your local doctor for this, but it's typically costly to do it this way. You will also need to pass an eyesight test. So please speak to your HGV Driving school, as you can typically save money by booking directly with them. It is also worth noting once the doctor signs the d4 form, you only have four months to send all the paperwork to the DVLA.
The Process to Get a HGV class 2 lorry licence.
If you want to get any HGV/LGV lorry licence, your age should be eighteen or more, and your car driving licence (a category B licence). There is no difference in what you must do when applying for the lgv hgv licences.
There are four parts to the CPC test. You have to clear all of them to get your HGV lorry and lgv lorry licence. You will have everything you need to be a qualified HGV driver.
The HGV Theory Tests
Before you take the LGV HGV theory tests, you -must study if you would like to pass it. You should set aside at least 20 hours to prepare for the tests. Make sure the theory training you are using is current. Whichever HGV licence you are applying for, the theory test is all the same, and many ambulance drivers are shocked to find out they need to study up to the full articulated licence and learn about 5th wheels and airlines.
Multiple-Choice Questions
Paper 1A includes multiple-choice questions. So there are 100 MCQs in the test based on what you have learned in your training. Online system you can use to check.
Q: What is the HGV Theory Test?
A: The HGV Theory Test is an exam of multiple-choice questions that qualifying drivers must take and pass to obtain a large goods vehicle (LGV) or a heavy goods vehicle (HGV) licence.
Q: How long does the HGV Theory Test last?
A: The HGV Theory Test lasts 1 hour and 55 minutes.
Q: What topics will the HGV class 2 Theory Test cover?
A: The topics covered by the HGV Theory Test will depend on what has been taught throughout the driving training. Common issues include the Highway Code, Traffic signs, safe and fuel-efficient driving, vehicle safety, and transport regulations.
Q: Where is the HGV Theory Test taken?
A: The HGV Theory Test is taken at a Driver and Vehicle Standards Agency (DVSA) test centre.
Q: How do I prepare for the HGV Theory Test?
A: Preparation for the HGV Theory Test includes revising the material you would have learned during your training, such as the Highway Code and other official documents. You can also find online resources such as mock tests and practice questions to help you prepare for the actual test.
Q: What should I do before the test starts?
A: Before taking the test, you should familiarise yourself with the exam structure, including the number and types of MCQs. It would help if you also arrived at the test centre in good time so that you are both calm and able to concentrate.
Hazard perception test
The test is known as the Hazard perception test. Unlike the car test, this is a separate test, and The pass mark for this part is 67 out of 100. Here you have to spot dangers in some videos related to driving. You will be marked based on the hazards you spot. Knowing what to expect is essential when it comes time to take the Hazard Perception part of your HGV test. Before you start the hazard perception test, you'll be shown a video about how it works. This is vital to get the most out of your time during the test. Once you understand how it works, you'll watch nineteen video clips featuring everyday road scenes with at least one 'developing hazard'. One of the video clips features two developing hazards - which you'll need to spot as soon as they start to happen to get the most points. So, take the time to watch the video about the hazard perception test before you start it, and you'll be in a much better position to ace it.
Q: What is a Hazard Perception Test?
A: A Hazard Perception Test is a part of the UK HGV driving theory test, where test-takers watch video clips from inside the car and identify developing hazards in the road ahead.
Q: How is the Hazard Perception Test marked?
A: The pass mark for this part is 67 out of 100. How your score is calculated depends on how quickly you identify potential hazards. The clips are scored from 0-5 depending on when you see the hazard developing. There is one clip that is a double hazard and is scored 2x on the same clip.
Q: When I receive my test results for my Hazard Perception Test?
A: After the test, you will receive either an email or a printout of your test result, and you must keep this and take your HGV driving lessons.
Q: How many video clips will I have to watch for the Hazard Perception Test?
A: You'll then watch 19 video clips. The clips are all between one to three minutes long, each containing at least one hazard that must be identified.
Q: What type of hazards will I have to identify in the video clips?
A: Hazards typically include pedestrians or cyclists crossing the road, slow or stopped vehicles, animals, and traffic movement or signs that call for an action, such as slowing down, changing direction, or moving out of the way.
Q: What happens if I select the incorrect hazard on the Hazard Perception Test?
A: If you select the wrong hazard, your score will not be affected. However, if you do not identify a hazard at all, you will lose points.
Q: How much time do I have to identify the hazards on the test?
A: As soon as you identify a hazard, you should indicate this, and your score for that particular hazard will depend on how quickly you do so.
Q: Are there any tips to help me score higher on the Hazard Perception Test?
A: To score higher on the test, it's essential to look ahead and consider possible scenarios, read all the signs, and look out for movement in the traffic in the clips.
Q: When will I receive my test results?
A: You will receive your overall test result immediately after completing the test. You'll get an email notification from the DVSA within three days of taking the practical test.
Part 2: Case Studies
The CPC exam can be daunting for many people, but it doesn't have to be! The test comprises 7 case studies you will work through on the computer. These case studies are short stories based on real-life situations which you may encounter in your working life. With each case study, you will be asked between 6 and 8 multiple-choice questions and will be given 1 hour and 15 minutes to complete the test. The pass mark to pass the CPC exam is 40 out of 50 for the entire test. With some preparation and help, you can feel more confident and pass your CPC exam.
Q: What is a CPC case study?
A: A CPC (Driver Certificate of Professional Competence) case study is a computer-based test made up of 7 short stories based on situations that are likely to arise in the career of a professional driver.
Q: How many questions are in the CPC case study test?
A: The CPC case study test contains between 6 and 8 multiple-choice questions.
Q: How long is a CPC case study test?
A: The CPC case study test lasts 1 hour and 15 minutes.
Q: What is the pass mark for the CPC case study test?
A: The pass mark for the CPC case study test is 40 out of 50.
Q: How will I know my test results?
A: After you have completed your test, you will receive a letter with the results at the test centre.
Q: What do I need to book a Driver CPC part 4 practical demonstration test?
A: To book your Driver CPC part 4 practical demonstration test, you need the test pass reference number from your results letter.
Q: How long is my test pass letter valid?
A: The CPC test pass letter is valid for two years.
Q: How long must I pass the Driver CPC part 4 practical demonstration test?
A: You must pass the Driver CPC part 4 practical demonstration test within two years. Otherwise, you'll have to pass the case studies test again.
Q: What happens if I don't pass the Driver CPC part 4 practical demonstration test?
A: If you do not pass your Driver CPC part 4 practical demonstration test, you must retake the CPC case studies test.
Q: Does the Driver CPC case study test cover any other topics?
A: The CPC case study test covers vehicle safety, fuel efficiency and environmental awareness.
Part 3: The Driving Ability
This test also has two parts.
Off-road Driving
In this part, show your skills as an off-road driver. The examiner might ask you to drive on any platform.
On-road Driving
As the name suggests, you must drive your heavy goods vehicle on the road. They will check your driving senses and skills.
Part 4: Practical Demonstration
It is the last part of your test. The examiner can ask you to do a few things with your vehicle. It includes loading and unloading of HGV, reversing gears and other things. Once you clear all this, you get your licence and certificate of professional competence. To get CPC, you should complete a 35-hour periodic training. Always remember that you cannot drive an HGV professionally without CPC. As we know about the process to get an HGV class 2 licence, let us know what I can drive on a class 2 licence. As mentioned above, you can drive any vehicle weighing more than 7.5 t to 32 tonnes. Also, you can carry a trailer weighing up to 7.5 kg. Class 2 vehicles are also known as rigid vehicles in some cities of the UK.
In The End
Are you looking to get a provisional HGV or bus licence? You may seek a vocational qualification to become a lorry driver, HGV, or bus driver. The difference between HGV and LGV licences is significant, so you must understand which one to apply for. A provisional HGV licence is required to enter the lorry driving world or upgrade your existing LGV licence. It's also essential to undertake the correct training to get the most comprehensive knowledge and experience for your HGV or bus licence. This training often includes awareness of health and safety, handling a vehicle safely, and understanding speed limits and licensing laws. If you seek a lorry licence or an HGV or bus driver qualification, having a provisional licence will give you the foundation you need to apply. Look into the provisional licence requirements and get qualified to join the world of HGV or bus driving. So this is some information on 'what can I drive on a class 2 licence' that you should have before you apply for your tests. These tests are worth giving. If you clear the tests, you can get a fixed job with a good salary. If you like driving or travelling, this job is for you.
Also Read: Driver CPC Licence
You might be Interested In: