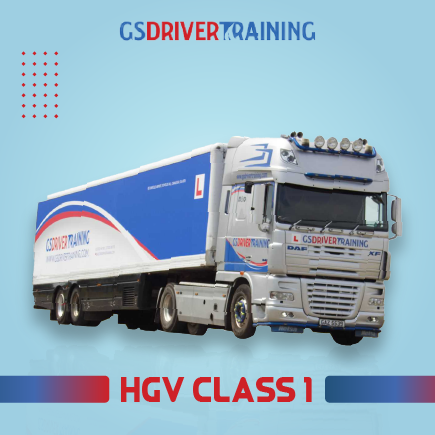 Class 1 HGV 17.5 hour Course - Book (Class 1 LGV/HGV Courses)
£1,595.00
£1,595.00
(

In stock

)
Description -
You will be able to operate category C+E vehicles, which include articulated trucks with an average weight of 7.5 tonnes and one detachable trailer with a maximum weight of 44 tonnes, after completing this Class 1 HGV 17.5-hour course. Because they travel a greater distance than Class 2 drivers, Class 1 drivers make more money than Class 2 drivers.
As we previously stated, you must adhere to the correct standards, and you can only do this after completing the Class 1 HGV 17.5-hour course. So, without considering any other options, simply sign up for our GS Driver Training.
Frequently Asked Questions
Which one is better, Class 1 or Class 2?
Local and regional deliveries are better served by a Class 2 licence, whereas long-haul trucking is best handled by a Class 1 licence. Certification and training: To obtain a provisional licence and become a Class 1, you must first pass a medical test. Following that, you have to clear a theory exam and a hazard perception exam.
What is the cost of a UK HGV Class 1 licence?
The type of licence, medical test, theoretical exam, and other similar exams are some of the factors that affect the cost of an HGV Class 1 licence. Usually, an HGV licence costs between £250 and £303. You cannot get a Class 1 HGV licence unless you have passed the written and practical tests.
How can I obtain a UK Class 1 licence?
First and foremost, you must be at least eighteen years old and in possession of a valid LGV CAT C or Class 2 licence. There are a few more things you need to do to start training, like getting a provisional licence, clearing a medical exam, passing a theory exam, and receiving your periodic CPC certification.
How can I become a Class 1 driver?
Take the hazard perception test and the theory test. As with all driver's licence requirements, passing a theory exam and a hazard perception test is required.
Finish the CPC for the driver.
Conduct a hands-on driving test.
Finish the hands-on presentation.