D+E you can drive D1 category vehicles with a trailer over 750 kg MAM the combined MAM of both cannot exceed 12,000 kg. The D1 category you can drive vehicles with no more than 16 seats passenger seats and maximum length of 8m and a trailer up to 750 kg.
If you need more than mention about then you should look at our D courses.
Courses

D1+E 7 hour course
Includes DVSA Driving Test
D1+E 10.5 hour course
Includes DVSA Driving Test
D1+E 14 hour course
Includes DVSA Driving Test
D1+E 17.5 Hour course
Includes DVSA Driving Test
Hours Taught:
7
10.5
14
17.5
DVSA test included:
Yes
Yes
Yes
Yes
Book
£743 inc. VAT
£953 inc. VAT
£1,069 inc. VAT
£1,269 inc. VAT
Course with Medical, Theory, Hazard perception & revision
£868 inc. VAT
£1,078 inc. VAT
£1,194 inc. VAT
£1,394 inc. VAT
Add CPC (Includes all the above):
£1,218 inc. VAT
£1,428 inc. VAT
£1,544 inc. VAT
£1,744 inc. VAT
What is a D1 Licence?
You are allowed to drive a vehicle with nine to sixteen passenger seats if you have a D1 minibus licence. Holders of a cat D1 licence are allowed to drive vehicles up to 8 metres long and tow trailers that weigh no more than 750 kg.
Before January 1, 1997, if you passed your driving exam, you immediately received a category D1 licence. If you passed it on a date after that, you must file an application to have it included.You can also check out the cat d1 licence cost with us!
Obtaining Cat D1 Licence
You need to complete a few steps in order to obtain a cat D1 licence.
Send a D2 application form that has been properly filled out to the DVLA or the local traffic authorities.
You must prove that you are in good enough health to transport people by passing a medical examination, so visit your doctor. An application form D4 must be filled out by your doctor who will perform the test.
Take a test covering both theory and practical d1 training and then the final test. Despite the fact that it may seem excessive, it's essential to guarantee everyone's safety when transporting a number of passengers, and the only way to do that is to prove your proficiency in driving a minibus by passing a theory and practical test.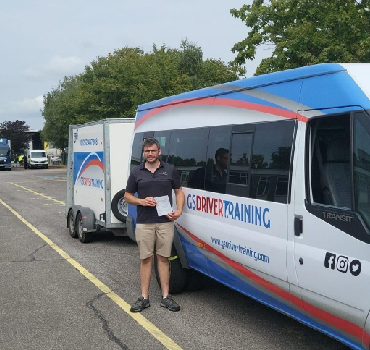 You might be Interested In: