Category C1 is the licence type that permits you to operate a light lorry.
The minimum age to obtain a Category C1 driving licence is 18.
After finishing the Cat C1 training with GS Driver Training, you will be qualified to operate a vehicle weighing 7.5 tonnes.
C1 Training Cost
The cost of C1 training can vary based on factors like location, training provider, and the duration of the course. Generally, expect to pay for both theoretical and practical training, as well as any associated fees for tests and licensing.
C1 Training Courses
C1 training courses are offered by accredited training providers and are designed to prepare individuals for the C1 driving test. These courses typically cover both theory and practical aspects of driving in this category.
Courses

C1 7 hour course
Includes DVSA Driving Test
C1 10.5 hour course
Includes DVSA Driving Test
C1 14 hour course
Includes DVSA Driving Test
C1 17.5 Hour course
Includes DVSA Driving Test
Hours Taught:
7
10.5
14
17.5
DVSA test 3a + 3b included:
Yes
Yes
Yes
Yes
Book
£743 inc. VAT
£953 inc. VAT
£1,069 inc. VAT
£1,269 inc. VAT
Course with Medical, Theory, Hazard perception & revision
£868 inc. VAT
£1,078 inc. VAT
£1,194 inc. VAT
£1,394 inc. VAT
Add Driver CPC (Includes all of the above):
£1,218 inc. VAT
£1,428 inc. VAT
£1,544 inc. VAT
£1,744 inc. VAT
Category C1
Between 3,500 and 7,500 kg MAM, you can operate a vehicle (with a trailer of up to 750kg).
Category C1E
Vehicles in the C1 category can tow a trailer weighing more than 750 kg. Both cannot have a MAM that is greater than 12,000kg.
Benefits of the C1 Driving course and the Licence
C1 Entitlement:
Holding a C1 entitlement on your driving license means you are authorized to operate vehicles falling within the C1 category.
You can operate a medium-sized vehicle up to 7,500 kg with the category C1 training course, including ambulances, horse boxes, removal trucks, etc.
To acquire the C1 driving course and obtain your Cat C1 driver's licence, you should enrol in a professional driver training program. This will ensure that you can operate the vehicle safely and successfully.
For a 7.5-tonne delivery, the drivers' effort and remuneration are comparable to category C.
It is simpler to pass the exam with the C1 driving test vehicle.
These courses cost a lot less than category C courses do.
People with a C1 driving licence have excellent employment prospects.
C1 Medical:
C1 license holders may have to undergo a driver medical examinations to ensure they are fit to operate vehicles in this category. Requirements can vary, so check with your local authorities.
Requirements for C1 Driving Test
You must pass a few tests before receiving your C1 driver's licence, so if you're wondering how to get one, read on. We can help you with all the below steps.
Obtain your D2 & D4 forms and book your medical.
Send off for your C1 provisional.
Complete and pass your Category C theory tests.
Complete your practical training and take your on and off-road tests.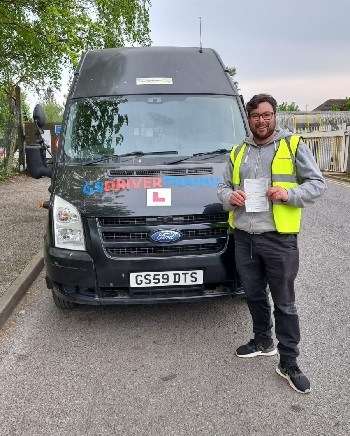 Must-Have Tips for Taking the C1 Licence Exam
Preparing for Your C1 Licence Exam
Preparation is vital when it comes to passing the C1 licence exam, and there are some must-have tips you should bear in mind when prepping for success. Ensure you get the appropriate C1 training, which will involve looking into the various vehicles the licence covers and all the necessary procedures. Revise the Highway Code regularly to get re-acquainted with the rules and regulations, and also remember to set aside plenty of time for practice tests. This will help develop your knowledge and enable you to improve on any weaker areas. Finally, make sure you arrive early on the day, as feeling calm and relaxed may give you the edge in the exam. Good luck!
You will need to compleat a medical to make sure you are safe to drive larger vehicles

d4-medical-examiner-report-for-a-lorry-or-bus-driving-licence

C1 Courses:-C1 courses are structured training programs that aim to provide candidates with the skills and knowledge necessary to safely operate C1 category vehicles.

Licence Categories:-Driving licenses are categorized into different classes or categories, each authorizing the holder to drive specific types of vehicles. The C1 license category is one of these LGV categories.

Vehicles:-The C1 category typically covers medium-sized vehicles, including trucks, lorries, and vans that have a maximum authorized mass (MAM) between 3,500 kg and 7,500 kg. Vehicles in this category are often used for various purposes, including goods transport and smaller-scale logistics.

C1 Category:-The C1 category allows individuals to drive vehicles falling within the specified weight range. It is commonly used for driving larger delivery trucks and some commercial vehicles.
Completing Your Theory Tests
Preparing for your C1 licence and LGV training tests can be daunting, but with a few wise pieces of advice to guide you, you can increase your chance of success. Firstly, always study before test day—take time to review the relevant topics and familiarise yourself with the exam format. Secondly, there are resources out there to help you with more in-depth topics. Take advantage of online courses, electronic practice tests and past exam papers. Finally, remember to make sure you are taking the correct exams for the driving licence you are after; the C1 licence is necessary for vehicles over 3.5 tonnes. With these tips, you'll be well prepared to pass your test and take the first step towards getting your driving licence!
Practising On the Road
When it comes to taking any driving test, practising is essential! If you're looking to take the C1 licence exam, then on-the-road practice is vital. The C1 licence is your gateway to larger Goods Vehicles and provides an excellent opportunity to progress your driving career. Before taking the test, practice driving these types of vehicles on the road in various conditions. It's always best to book in for LGV training to make sure you are well prepared for the C1 licence exam. This practice should cover a variety of different scenarios, such as motorway driving, roundabouts, and any other specific methods that may be outlined in the Examination's content. Practising on the road is a vital step in passing the C1 license, so be sure to do it!
Passing the On and Off-Road Tests
Passing the C1 licence driving test can be incredibly daunting, but there are some essential tips that can help you ace the on and off-road tests. Firstly, it's vital to choose the right driving school for LGV training, as you'll need an experienced instructor to get you ready for the test. You should also make sure to spend adequate time practising and employing corrective techniques to ensure you're entirely comfortable with all of the on and off-road testing components before the big day. Another critical tip is to book your theory test before you book the practical driving test, which makes sure that you meet the criteria as soon as possible. Finally, make sure you familiarise yourself with the details of the test route so that you are comfortable with the roads and surroundings on the actual test day. All of these factors will help to ensure you pass the C1 licence test with flying colours.
After You've Passed the C1 Driving Tests
Once you've passed the C1 driving test, you're all set to drive your category C1 vehicle on the roads. Your new licence will be posted to you, but before you can start, you should check that you do not require CPC. This involves some classroom and some practical training to ensure you're ready to hit the road. It may also be a good idea to invest in some additional driver training, such as a refresher course if this is the first time you have driven a large vehicle. This additional training will help you feel more confident and comfortable in a C1 vehicle. Once you're officially licensed and have completed all your training, you can start driving your new C1 vehicle with confidence.
It appears you're interested in various aspects related to the C1 driving license category, including the types of vehicles it covers, training, and related topics. Here's some information related to your inquiries:
Further reading.
Licence Changes:-Driving license categories and requirements can change over time due to legislative updates or safety considerations. Keeping up with such changes is crucial for compliance.
Tax and Legislation:-Tax and legislation related to driving licenses can vary by region or country. It's important to stay informed about any tax or legal requirements associated with the C1 category in your specific area.
Government Consultation:-Government consultations related to driving licenses can involve proposed changes to licensing requirements or regulations. Staying informed about these consultations is important if you have a C1 license or are considering obtaining one.
Large Vehicles:-The C1 category covers larger vehicles compared to standard car categories. It is often a step up for individuals who need to operate medium-sized commercial vehicles.
A: C1 driver training is a type of Large Goods Vehicle (LGV) or Heavy Goods Vehicle (HGV) training that equips drivers with the skills necessary to obtain a C1 driving licence. This is required to drive a medium-sized goods vehicle for transportation, typically ranging from 3.5-7.5 tons.
A: In order to obtain a C1 driving licence, you must be at least 18 years of age and have an existing full UK driver's licence. You must also pass a series of tests that include a multiple-choice exam, driving and manual handling assessments, and complete an initial driver CPC (Certificate of Professional Competence).
A: No, a C1 licence can be used for various vehicles, provided the vehicle's weight does not exceed the requirements. The categories of vehicles that can be operated with a C1 licence include minivans, panel vans, pick-ups, motor caravans and ambulances.
A: The time it takes to complete the C1 driver training course varies depending on the experience and level of understanding of the driver. Most courses are completed in 1-7 days.
A: Prices of C1 driver training courses vary but typically range from £400-£2000. Prices may also depend on the type of training package purchased and the vehicle used.
A: The C1 driver training course syllabus is designed to provide drivers with the necessary skills and knowledge to operate medium-sized goods vehicles safely. The course includes theoretical and practical training, such as demonstrating vehicle check requirements, safety and fuel efficiency, as well as training on how to operate the vehicle.
A: Yes, applicants must pass, as a minimum, the LGV theory tests.
What is Category B1?
A: The Category B1 license typically covers light vehicles, such as cars. It is distinct from the C1 category, which covers medium-sized commercial vehicles.
Q: What is a Provisional Entitlement?
A: A provisional entitlement indicates that an individual holds a provisional license authorizing them to operate vehicles in a specific category under certain conditions, often while learning
Q: What is C1 Licence Driver Training:
A: C1 license driver training is essential for individuals seeking their C1 license. It includes theoretical instruction, practical driving lessons, and test preparation.
What is a Provisional C1 Licence:
A provisional C1 license is a learner's licence that allows individuals to receive training and practice driving C1 category vehicles under the supervision of a qualified instructor.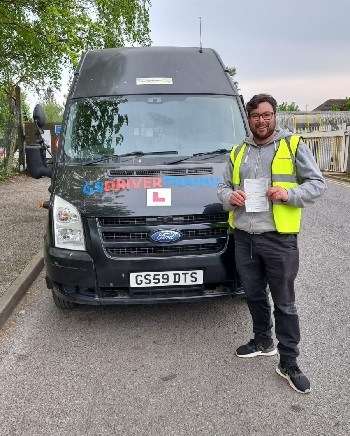 You might be Interested In: