Category C1 is the licence type that permits you to operate a light lorry.
The minimum age to obtain a Category C1 driving licence is 18.
After finishing the Cat C1 training with GS Driver Training, you will be qualified to operate a vehicle weighing 7.5 tonne.
Courses

C1 7 hour course
Includes DVSA Driving Test
C1 10.5 hour course
Includes DVSA Driving Test
C1 14 hour course
Includes DVSA Driving Test
C1 17.5 Hour course
Includes DVSA Driving Test
Hours Taught:
7
10.5
14
17.5
DVSA test 3a + 3b included:
Yes
Yes
Yes
Yes
Book
£743 inc. VAT
£953 inc. VAT
£1,069 inc. VAT
£1,269 inc. VAT
Course with Medical, Theory, Hazard perception & revision
£868 inc. VAT
£1,078 inc. VAT
£1,194 inc. VAT
£1,394 inc. VAT
Add Driver CPC (Includes all of the above):
£1,218 inc. VAT
£1,428 inc. VAT
£1,544 inc. VAT
£1,744 inc. VAT
Category C1
Between 3,500 and 7,500 kg MAM, you can operate a vehicle (with a trailer of up to 750kg).
Category C1E
Vehicles in the C1 category can tow a trailer weighing more than 750 kg. Both cannot have a MAM that is greater than 12,000kg.
Benefits of C1 Driving course and the Licence
You can operate a medium-sized vehicle up to 7,500 kg with the category C1 training course, including ambulances, horse boxes, removal trucks, etc.
To acquire the C1 driving course and obtain your Cat C1 driver's licence, you should, however, enrol in a professional driver training program. This will ensure that you can operate the vehicle safely and successfully.
For a 7.5-tonne delivery, the drivers' effort and remuneration are comparable to category C.
It is simpler to pass the exam with the C1 driving test vehicle.
These courses cost a lot less than category C courses do.
People with a C1 driving licence have excellent employment prospects.
Requirements for C1 Driving Test
You must pass a few tests before receiving your C1 driver's licence, so if you're wondering how to get one, read on. We can help you with all the below steps.
Obtain your D2 & D4 forms and book your medical.
Send off for your C1 provisional.
Complete and pass your Category C theory tests.
Complete your practical training and take your on and off road tests.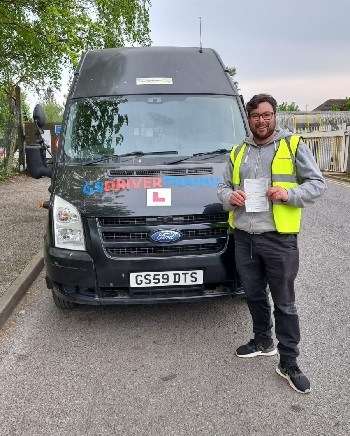 You might be Interested In: