HGV Driver Training and LGV Training - Surrey in the UK
HGV training and licencing are mandatory requirements for both legal and safe driving. Heavy-weighing lorries are used for national and long-distance deliveries within the UK and overseas, and you can only drive them if you have undergone training and have a valid HGV licence.
HGV/ LGV Driver Training increases knowledge and skills about the different weights, types, and other aspects of such heavy and rigid vehicles, as well as many driving elements such as road safety and other necessary things while driving, dos and don'ts that must be followed while driving, and real-world exposure to driving tests strictness, requirements, and so on.
We at GS Driver Training provide practical courses that are usually delivered according to the standards set up by the authorities. The syllabus we follow is also recommended by concerned authorities in this field. Similarly, The vehicles for training are also maintained according to the standards meeting the required specifications. GS Driver Training gives excellent exposure to theoretical and practical knowledge so that you don't limit yourself to driving. Still, you can also go for various other streams related to it. We at GS Driver Training provide you with the perfect skill set required to gain expertise in the field, as it is often termed the best HGV school in Surrey because of its professional and expert teachings.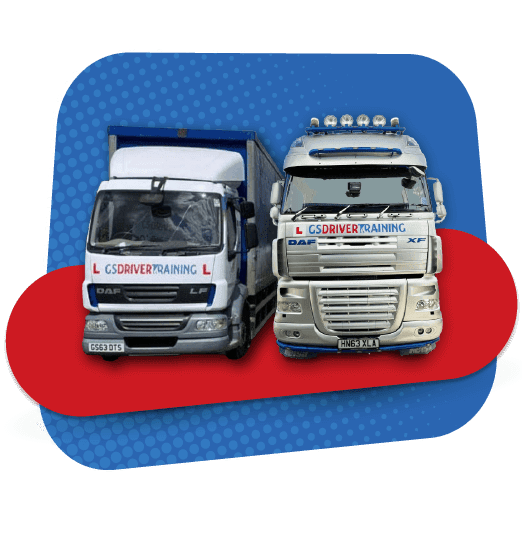 Can I go directly to Class 1 HGV?
Yes, at our training centre, you can go straight from a car licence to an HGV C+E licence, the full Arctic licence completely missing out on the need to first get your C licence, also known as HGV class 2.
How long does it take to train as an HGV Driver from start to finish?
There is quite a lot to it, and it's not all driving. Some forms need filling out, and a medical test followed by Theory tests you will need to pass. Then, the practical training and tests can take around three months to complete.
Is passing the HGV test difficult?
Yes, it's not easy, but most people can do it with the proper training and time.
How much does HGV training cost?
The cost of the training can vary depending on which options you pick. If you don't take enough training, you could be stuck doing retests, which cost around £400 each time. We have all our prices advertised on our website, so you can be sure to get a good deal.
Category C/ C1 Driver Training, Surrey
With a C1 driving licence, you can operate trucks weighing up to 32 tonnes and trailers weighing up to 750 kilograms. With a C licence, you can drive vehicles weighing up to 7.5 tonnes and trailers weighing up to 750 kilograms. Initial Driver CPC consists of the CPC Module 2 and Module 4. This is a two-part test for drivers getting their first Driver's qualifications card. We also assist you in Ambulance Driver Training in Surrey.
Check our affordable prices for the best courses:https://www.gsdrivertraining.com/training-courses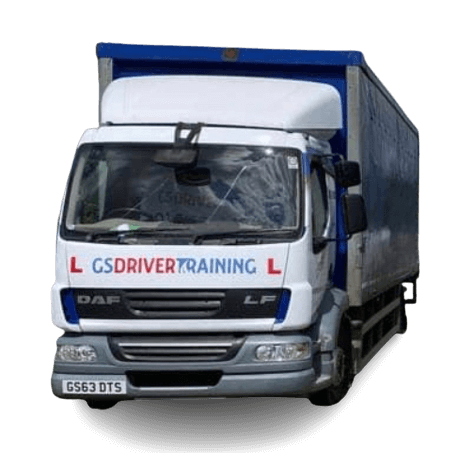 CPC
There are many reasons why a driving CPC is required. Initially, the individual has to complete 35 hours of training every five years if they want to keep it in continuation. Our highly experienced Instructors give proper category C and C1 Driver Training and CPC Driver Training (Certificate of Professional Competence) Module 2 and Module 4 courses at GS Driver Training. All our courses comply with JAUT regulations and are well-structured to meet your requirements. Instructors at GS Driver Training are highly competent and knowledgeable in driving. Driver CPC will keep you up to date with any changes and regulations you need to know about.
Best HGV Training In Surrey
Enrol at GS Driver Training, the best training school in Surrey. We provide the necessary knowledge and expertise to pass your C1, C, and CPC exams. Paramedic students pursuing any licence are also eligible for a student discount. To acquire HGV/LGV Driver Training with us, you must be 18 years old and have a manual car licence. We have won many awards for our HGV training courses, showing we offer only the highest standards in the industry. Our training courses are designed to get you the results you want. HGV and LGV are the same and let you drive the same vehicle.
Many companies claim they are the best, so why pick us?
We keep up to date with the latest HGV training news
we offer professional HGV training courses
we won Best HGV training provider for 2021,2022,2023
We won Most Trusted HGV Training Provider 2023
We have a perfect 5/5 on the trust pilot.
Check out our customer reviews :https://www.gsdrivertraining.com/reviews/
How To Get an HGV/LGV Driver Draining Licence?
Eligibility for HGV Driving licence
The first step is determining whether you are eligible for an HGV driver's licence. Only people over the age of 18 are eligible for a HGV licence. Driving such enormous vehicles takes work, and you must always remain aware. You'll need proper training from a government-approved institution or one linked with the state government to earn the licence and stay safe. GS Driver Training provides you with comprehensive learning that involves everything from basic training to expert support, as well as proper training based on the concepts of the final examination. Before you get behind the wheel of a commercial vehicle, you must first obtain a provisional driving licence.
Documents Required for HGV Licence

Document to prove your address
Document for age-proof
Concerned forms and enclosed passport-sized photographs.
Checking for risks from criminal acts.
The mandatory application fee for the whole process
After submitting your documents, you will be tested before you get your HGV licence. The examination consists of a theory exam and a practical exam in which your knowledge and driving skills are assessed, and you will receive your licence only if the entire process is completed following the established procedures. GS Driver Training is the best HGV school in Surrey because we will hold your hand until you no longer require assistance.

LGV Training Courses we offer:

7.5t HGV driver training course starts at 7 hours up to 17.5 hours, so we have something for everyone and our training centre.
If you look at the link, it will show you our prices. We believe in being transparent with our fees.
C1 training 7-hour course in Surrey
This is the most intensive C1 course we offer. Getting our students up to standard in just 7 hours is challenging. However, that hasn't stopped us from being successful. With the cost of living crises, people need to save money where they can, so if you are already a good driver and only need a little tweaking, this could be the right C1 course for you.
C1 Training 10.5 Hours Course In Surrey
Are you looking to get your C1 licence in Surrey?
Look no further! GS Driver Training offers a 10.5-hour C1 training course that prepares you to pass the practical and theory tests. Our qualified and experienced instructors have successfully helped hundreds acquire their C1 licenses without fuss. Our 10.5-hour C1 course covers all the essential topics, such as safe driving techniques, rules of the road and risk management, so that by the end of the course, you'll have all the knowledge and experience you need to pass the tests easily.
Once you've completed the course, you'll be given a theory test and a practical test that must be passed to receive your licence. Conveniently located in Surrey, we are well-equipped to provide you with a professional C1 training course. For more information and to book your training, contact us today! This is the 2nd most intestine C1 driving course we offer, and it's designed for drivers who are quick learners.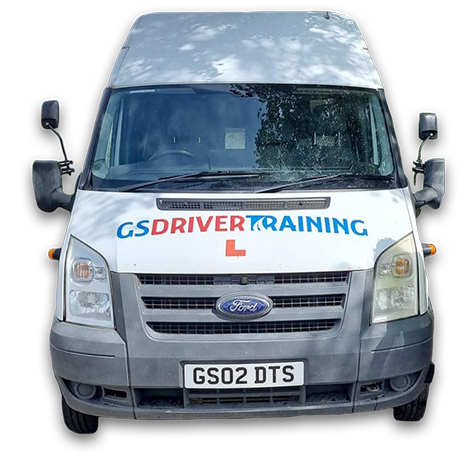 It's time to start preparing for your upcoming C1 driving test. We have some great news if you're living in Surrey, UK. We're offering a 14-hour C1 training course that can be completed in just 14 hours. Not only will you learn the essential knowledge and practical skills required to pass the C1 Driving Test, but you'll also be able to gain practical experience in various traffic scenarios. During your 14 hours of training, our experienced instructors will teach you essential skills such as observing the speed limits, lane control, cornering techniques, parking and launching, reversing, managing roundabouts and junctions, and the all-important stopping correctly. You will also have the opportunity to ask our trainers any questions you may have about the course and the C1 exam. So, if you're living in Surrey and want to pass your C1 driving exam with flying colours, don't hesitate to sign up for our 14-hour C1 training course today.
We look forward to seeing you!
C1 Training 17.5 Hours Course In Surrey
Are you looking for a quality C1 training 17.5 hours course in Surrey?
Look no further! Our course is the best one for you! With our experienced and knowledgeable instructors, we are here to provide you with the highest quality training. Our courses are designed to cover everything you will need to know for the C1 driving test, from the basics up to in-depth skill acquisition.
During these 17.5 hours, you will learn proper vehicle manoeuvres and become comfortable driving on various roads. Upon completing the 17.5-hour course, you will be eligible for your provisional C1 driver's licence. So, if you're ready to take the wheel, book your C1 driver training course in Surrey today and become one of our many success stories!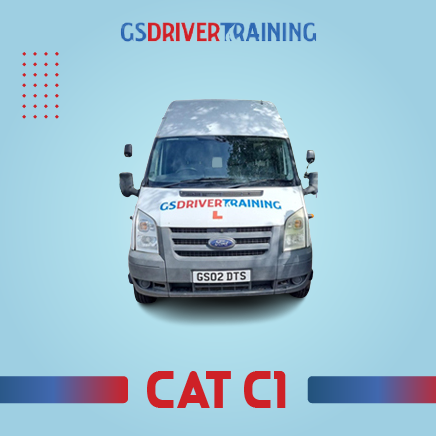 LGV Driver Training Courses
Our next course is the C licence, the HGV class 2. You want to look at this if you want to be a lorry driver. Our course starts at 14 hours and goes up to 21 hours. We offer our course in hours rather than days as it's more transparent. How long is a day, and how much training are you getting? Where an hour is always an hour. This is where the differences start to show. We want to ensure you go to that test centre ready to pass your test. Being in Surrey, we use the Guildford test centre. You can, of course, miss out on this licence and go straight for the Arctic licence, and if that is something you wish to do, keep reading, as that is coming up soon.
https://www.gsdrivertraining.com/category-c-class-2-lgv-hgv-courses
https://www.gsdrivertraining.com/category-c-class-2-lgv-hgv-courses
Are you seeking the best HGV class 2 driver training course in Surrey?
Look no further than GS to gain your HGV licence. Our 14-hour course provides intensive, practical and comprehensive driver training covering all the essential driving and safety modules for the test routes. We're conveniently located near Guildford HGV test centre and offer some of the most competitive prices in the area for this quality of service. Our experienced instructors are all experienced and ensure your driver training sessions are delivered in a relaxed and friendly atmosphere. Furthermore, we provide comprehensive support and guidance so that you can always feel confident that you are getting the best training possible.
Our 17.5-hour HGV course is more popular than ever. This cause suits most people wanting to get their HGV Class 2 licences. In this course, you will cover the show-me-tell questions. You will carry out vehicle checks with your instructor. You will be shown the correct way to pass your Mod3 test, where you will be examined in-house by one of our qualified assessors. You will also drive in and around Guildford in various traffic conditions to make you feel more compatible with the lorry. Our instructors will assess your driving habits, and you will have your driving corrected to drive most safely. Our instructors will be with you to help you gain the confidence and skill you need to prepare for the mod 3b test you will need to pass to get your HGV licence.
This HGV course is designed to be less intense than the shorter options above. Our instructors will show you everything you need, but if there are any areas in which you need more time, this course will allow us to go into more detail if required. This is a great course and is highly recommended if you would like to be an HGV driver. With the longer duration, we get time to go into detail and help you understand why we do things the way we do. So it would help if you left feeling ready to face anything life throws you while driving.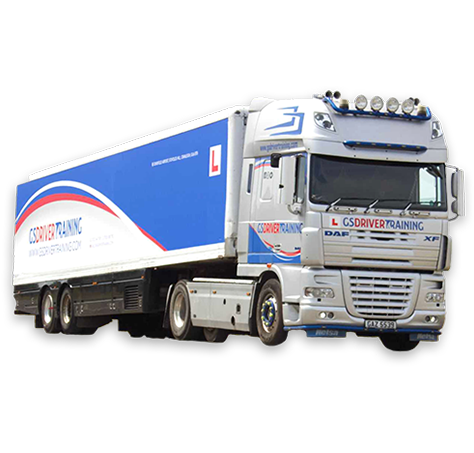 HGV Class 1 Lorry Licence
Can I go directly to Class 1 HGV?
Going from a car to a full Arctic licence is now possible. This course is more popular than ever. It is essential to pick the right training company to train with if you wish to do this. Some HGV training companies only take you to the Arctic if you select this course. Well, don't worry, as we won't do that here. Using the feedback we get from our students and instructors, we have come up with what we believe is the best way, and it's working well. So how must we this cost? We start at 28 hours and go up to 40 hours. Which one is right for me? You should not go for the shortest course if you have never towed a trailer. HGV training takes time to get everything right. When you are at the test centre waiting for the examiner, that's not the time you want to be thinking. I should have booked a longer course.
Are you seeking your Heavy Goods Vehicle (HGV) Class 1 licence?
If so, you'll be pleased to know that our fast-track 28-hour car to the Arctic course is ideal for getting you qualified and ready to start work as soon as possible. Our highly experienced instructors focus on HGV driving alone, so you can be sure of quality training that will thoroughly prepare you to operate various large vehicles safely and efficiently. The course is completed in just seven days and is designed to ensure you understand the basics and receive the relevant knowledge you need to become an HGV class 1 driver. On completion of the course, you will receive a certificate of achievement that you can then use to apply for your licence. So don't delay; book today and start your journey to becoming a fully qualified HGV driver. Twenty-eight hours Is the shortest course we offer, and ideally, you will come up with some ideas to reverse a trailer. We also provide longer sessions. See below.
Finding the time to complete an HGV Class, one course can be challenging, especially when you're already working and have other commitments. But now, with our fast-track car to the Arctic 35-hour HGV Class 1 course, you can gain your licence and get on the road faster! This particular course has been created to meet the needs of those short on time, making it much easier to complete the training quickly without sacrificing quality. We have experience in the industry and the latest technology available to ensure you're getting the most up-to-date training. You'll be taught by some of our highly skilled and knowledgeable instructors, who will be there to answer any questions you may have along the way. So, if you want to gain your HGV Class 1 licence without spending weeks completing courses, look no further than the fast-track car to the arctic 35-hour HGV Class 1 course!
The Fast Track CE 40-hour HGV Class 1 Course is a great way to quickly and efficiently obtain your HGV Class 1 licence in the beautiful Surrey area. This comprehensive course includes 40 hours of Driver CPC-approved theory and practical training over ten days, making it easier for those short on time or seeking to obtain their licence quickly. With the guidance of our experienced instructors, you will learn essential skills and knowledge that will set you apart as a professional HGV driver and ensure you are operating safely on the roads. Today, enhance your career prospects and obtain your licence with the Fast Track CE 40-Hour HGV Class 1 Course in Surrey!
What If I Already Have Class 2?
How much training will I need?
We have courses for this. We offer 14 to 21-hour courses for people with their class 2 or full d licence. We will train you to reverse in our vehicle. Before the changes, you may have passed your HGV or PCV licence, but they have separated the reverse and driving tests. Once you have mastered the reversing and been tested, we will focus on getting your driving up to standard in an arcticled vehicle. Then, you will be tested at the DVSA test centre.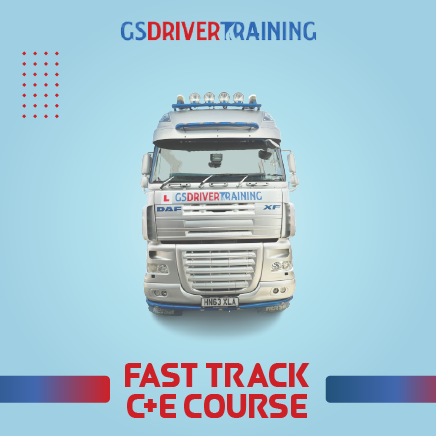 If you want to get your Class 1 / HGV Licence qualification, then 14-hour Driver Training could be your answer. With our comprehensive 14-hour HGV Training Course, you'll gain the necessary professional skills and knowledge to pass your practical driving assessment and Achieve your Cat C + E "Class 1" driving licence. Our fully trained team of instructors will guide you through everything from practical driving tuition and manoeuvres to mastering the Highway Code. Our 14-hour training package is designed to ensure all the areas are covered to pass your test the first time, giving you the confidence to pursue a promising career as a professional HGV driver. With our full support and guidance, you can trust us to get you on the road. You must already have your HGV class 2 licence to take thiscourse.
If you want your HGV Class 1 licence, then the 17.5-hour training course is perfect. It will provide the essential knowledge and skills to become a confident HGV driver, preparing you for life behind the wheel. This training is ideal for those who want to go the extra mile, get professional qualifications, and gain a competitive edge. Plus, with dedicated instructors teaching the course, you can rest assured that you'll receive the best instruction possible. So, if you're looking to get your HGV Class 1 licence, the 17.5-hour training course is ideal for getting on the road as a professional driver and starting your exciting new career. You must already have your HGV class 2 licence to take this course.
Those looking to get their HGV Class 1 license in Surrey can now take advantage of a fantastic 21-hour program designed to provide drivers with the best training and on-road experience. During the training, participants will undergo intensive practical training behind-the-wheel training emphasising safety. Instructors also put a lot of emphasis on helping drivers develop the necessary knowledge to pass their tests and achieve their goals. With a strong focus on safety and a friendly, supportive atmosphere, this HGV Class 1 training program will give you everything you need to get your licence confidently. You will be shown how to pass the mod3a test, the reverse test you must complete before taking mod 3b, which is the practical driving test. You must already have your HGV class 2 licence to take this course.
PCV Training In Surrey In The UK
We offer D1 and D licences in Surrey, meaning if you would like to learn to drive a minibus or a Coach, we can help you do this too. If you are still determining what vehicle you want to drive, then why not arrange to come to see us so you can see what vehicle is right for you?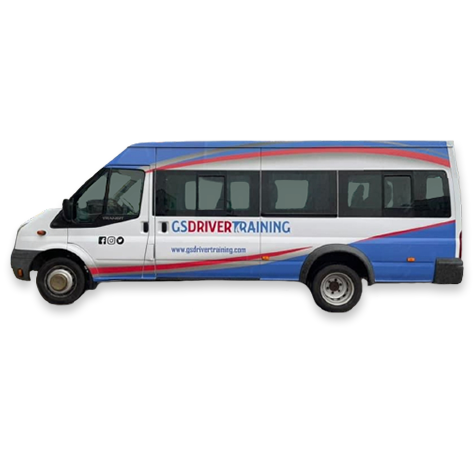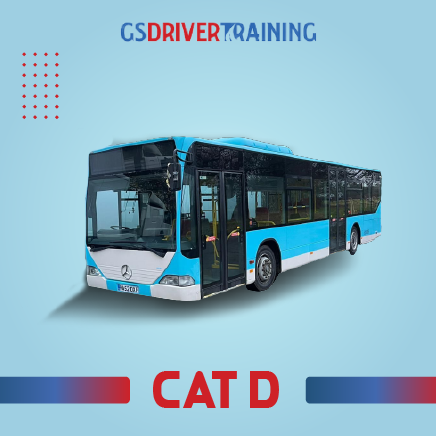 Bus Driving lessons in Surrey
https://www.gsdrivertraining.com/cat-d
From the medical, provisional licence, three theory examinations, one practical CPC test and five days driving tuition with an exam. This is the most preferred PCV course. It provides everything you need to start being a bus or coach driver. It includes the medical and theory exams, five days of driving teaching and the Driver CPC qualification (initially only). It should take about eight weeks (from medical) to acquire all that is wanted.
GS Driver Training staff will be on hand to assist with the whole process of passing the medical through to passing the practical and theoretical driving tests.
A medical assessment (this takes no more than 15-20 mins. We have sight all around the UK and can offer our medical tests. Whilst the medical is being completed, we shall also meet the provisional licence application and forward it to DVLA.
Mini Bus Driving Lessons in Surrey
https://www.gsdrivertraining.com/cat-d1
Unlock endless possibilities with GS Driver Training's comprehensive minibus licence program. Whether you dream of transporting passengers or expanding your professional skill set, our expert instructors will guide you every step of the way. With our CAT D1 licence, you gain the power to drive vehicles carrying nine to sixteen passengers up to 8 meters in length. If you want to get your minibus licences, we offer a few options you can pick from. We provide driving courses of 7, 10.5, 14 and 17.5 hours, inclusive of PCV medical if required. Alternatively, you may take the course without it, giving you only the needed price. If uncertain, consult one of our advisors to set you on the right path.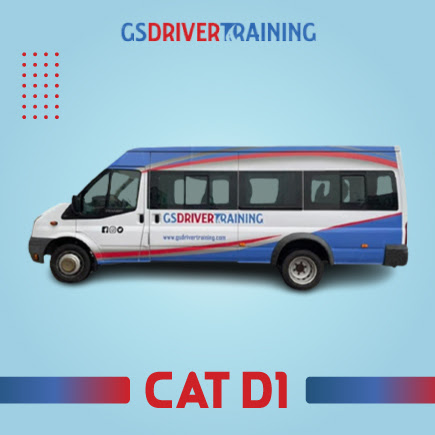 You might be Interested In: