Since many organisations typically choose this kind of vehicle to distribute localised and countrywide supplies, the HGV/LGV driving licence is the most in-demand and adaptable commercial driving licence to possess. The Class 1 HGV licences are widely used to drive these vehicles but initially require a proper HGV Class 1 Training course for better and safer driving experiences.
Earning your HGV Class 1 C+E Licence allows you to operate the heaviest vehicles in the logistics sector.
The courses below are only suitable for those with a Category C licence.
Please see our Fast Track courses if you still need to get your Category C but want to obtain your Class 1 licence.
Growth in the HGV Industry
One industry where you can stay energized is the logistics sector. Everything in the nation depends on the logistics industry; without skilled HGV drivers, nothing will function. Drivers can transport more delicate goods that pay more as they're driving skills advance.
Why go for Class 1 HGV Training Courses?
Class 1 HGV/LGV courses can also be termed as category C+E (Articulated/Class 1) Driver Training.
Upon the Category C driving test, the provisional "C+E" would have been added to your licence. Therefore, you are not required to apply for the provisional or take another LGV Theory or Hazard test.
You can operate any vehicle within the LGV/HGV category.
Greater career opportunities.
If you want to drive an ARTIC lorry, you will need to acquire an ARTIC licence and the accompanying LGV training. Whilst an artic licence is optional to driving a van or truck, you may need it to transport larger loads. Depending on the particular type of artic licence you require, you may have to spend an extended period of time completing your training and displaying the necessary skills before you can be certified as suitable to drive larger vehicles. You must research your specific requirements thoroughly before commencing your LGV training and taking out an artic licence.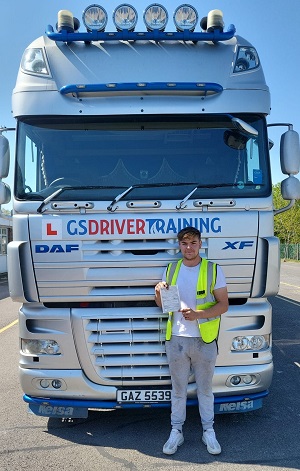 A: A HGV Class 1 licence, also known as an artic licence, allows drivers to drive any heavy goods vehicle legally allowed on the road. HGV Class 1 licences are the most comprehensive and enable holders to drive other vehicles, including LGVs (Light Goods Vehicles).
A: HGV driver training is a series of tests and training courses that teach individuals how to safely and legally operate a heavy goods vehicle. It typically consists of theoretical and practical instruction to ensure that drivers are entirely up to speed with the laws and regulations governing the operation of an HGV.
A: Yes, it is a legal requirement for operators of HGVs to be adequately trained to operate their vehicles safely and legally.
A: To obtain a HGV Class 1 licence, the applicant must be at least 18 years old.
A: You must pass several tests and examinations to obtain a HGV licence. These tests include the Highway Code, medical examinations, driver hours and Working Time Directives, DVSA Vehicle Loading and Driver CPC (Certificate of Professional Competence) examinations.
A: Driver hire training involves carrying out a training programme specifically designed for those responsible for hiring HGV drivers. This form of training is usually carried out as an in-house course. It provides instruction in health & safety, environmental awareness, road regulations and driver selection criteria.
A: The process of obtaining an HGV licence will vary between countries; however, generally, you will need to pass the relevant tests and examinations to get one. Once you have obtained a provisional licence, you will be required to complete several practical and theoretical HGV training courses.
A: It is essential to find a training provider who is experienced, reliable, and who can offer quality training and instruction. When choosing a training provider, ensure they are accredited by the relevant authorities, such as the DSA (Driving Standards Agency) or DVSA (Driver and Vehicle Standards Agency).
A: Yes, practical driving forms a large part of the HGV training course. During the practical training, you will be taught how to safely operate a HGV and other skills such as vehicle inspection, safe loading and unloading of goods, and legal procedures surrounding the vehicles.
A: The time required to complete HGV driver training will vary depending on the individual. However, it can typically take three to six weeks to complete the course.
You might be Interested In: