GS Driver Training in Hampshire Provides HGV training, LGV training, PCV Training, CPC Training and B+E driver training courses. We will assist you from start to finish giving you all the relevant information and necessary skills to succeed in the HGV driving profession. We can help you with all aspects of your HGV training.
Category C HGV Training
The C licence permits drivers to operate ridged vehicles with trailers weighing up to 750kg. After you've completed your Category C licence, you can apply for an Initial Driver CPC and begin driving these vehicles professionally. GS Driver Training offers the essential preparation for the C1, C, or C+e CPC Module 2 and CPC Module 4 examinations.
Check our affordable prices for the best HGV training courses: https://www.gsdrivertraining.com/training-courses
Personalised Training
GS Driver Training has experienced instructors providing practical one-on-one training following your requirements with different enrolment options for every course.
Single-day Training with test
Two-day Training with test
Three-day Training with test
Retest
Refresher Training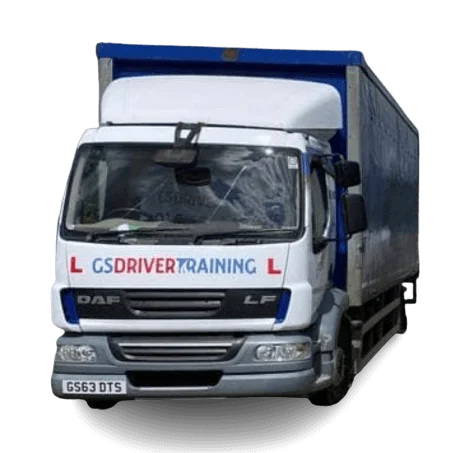 Can I train in an automatic HGV training vehicle?
You will find that most HGV driving schools have automatic HGV trucks to train in. the main reason being cost; quite simply, it takes the least time. Most new trucks are automatic these days. Using an automatic will not restrict your HGV licence in any way. LGV test fees can be expensive, so you can be more successful by doing it in the easiest vehicle.
How do I get my HGV licence?
We help people every day to get their HGV licence. So why not speak to one of our friendly team members? We could save you time and money. After all, you don't want to pay thousands to find out later that you ticked the wrong box. We have HGV medicals all across the UK, so you can be sure to find one near you.
What HGV training company should I pick?
Well, we will say us, and other companies will say them. But it's one of the most important things to get right. Any good HGV training provider will be easy to spot if you look out for the following things:
- Do they have their own vehicles
- Do they have recent reviews
- Are they pushy and trying to get you to pay
When did they last post the recent passes they had?
Pass rates look on their social media pages. If they get passes, they will indeed be posting about them. If the last time they posted about someone passing with them was months ago, further investigation may be necessary to determine why they lack recent posts. This would typically be because they don't own their vehicles, so they can show the pictures without giving the game away.
How much does HGV training cost in the UK?
GS Driver Training has experienced instructors providing practical one-on-one training per your requirements with different enrolment options for every HGV course. With retest costing approximately £400 a go, it's worth picking a course that is right for you from the start. Train with a good instructor.
Category C licence HGV Driver Training
We offer 14 Hour HGV training course, which includes Mod 3a and Mod 3b.
This HGV driver training course is our budget option, and if for the more confident driver and is intensive. If you need more time, look at our 17.5 or 21 hours of HGV training course options.
We offer 17.5 Hour HGV training course, which includes Mod 3a and Mod 3b.
This course is suitable for most people, and it is the average time it takes most people to reach the required standard.
We offer 21 Hour HGV training course, which includes Mod 3a and Mod 3b.
Twenty-one hours of practical training is an excellent course if you are nervous and do not feel rushed to get to the required standard to make you a safe HGV driver.
We also offer the following training:
- Retest for the HGV test
- Refresher Training
Category C1 licence HGV Driver Training
Do you want to become an HGV driver but aren't sure where to start?
HGV driver training courses are the perfect way to advance in the industry. They give you the knowledge and confidence to become a safe and efficient HGV driver. Our 14-hour HGV training course is designed to provide you with all the skills needed to become a professional HGV driver, benefiting from the expertise of experienced coaches.
The key topics are covered, from basic vehicle manoeuvring to practical on-road driving. On completing the course, you will be well on your way to becoming a fully qualified HGV driver. The aim is to pass the first time and get your licence. With the right instructor, this makes the training so much easier.
GS Driver Training provides the knowledge and expertise you'll need to pass your driver's licence exam. The C1 driver's licence permits you to operate vehicles weighing up to 7.5 tonnes and trailers weighing up to 750 kilograms. If you want to enrol in one of the driving courses offered on our website, you can contact us immediately.
The C1 licence is usually carried out in a twin-wheel van that can carry over 3.5t. The much smaller size is why this course can take less time than the C licence. Having said that don't think it's easy. You will still need training to get to the required standard. The course we offer our as follows.
7-hour C1 Licence Hgv driver training course
This course is our most intensive, with two tests to training to fit into 7 hours, it can be full on. We have had plenty of people taking this option and being successful, which I why we have it..
10.5 hour C1 licence Hgv driver training course
We have our 10.5 hours option, which is an excellent course if you are on a budget. Your instructor won't have time to take you everywhere but can cover some key areas.
14-hour C1 HGV driver training course
that would suit most people and is a reasonable time to learn what to expect to pass the driving test. This course offers excellent value HGV training so you pass your test the first time.
17.5 hour C1 licence Hgv driver training course
17.5 hours is the longest course we offer and is great if you struggle with driving or just need that extra time to get yourself commutable when driving an LGV training Vehicle.
PCV Training in Hampshire
Looking to obtain your bus license? Look no further! We've got you covered with various flexible options to suit your needs. Whether you're a beginner or looking to upgrade your existing license, our comprehensive training programs have been designed to ensure your success. Choose from our various options and get on the road to becoming a skilled and confident bus driver today!
Unlock your career potential with our 14-hour PCV driving course! Whether you're on a tight budget or simply looking for quick yet comprehensive training, our specially designed course is your ticket to success. Hop on board our bus and let our expert instructors guide you through the essentials of obtaining your PCV license. With a focus on practical skills and in-depth preparation for the big day, we'll ensure you're ready to confidently conquer the challenges ahead. Don't compromise on quality or affordability – choose our 14-hour PCV driving course and take the first step towards a rewarding career on the road. This course includes the reverse test and the driving test.
Ready to hit the road and get your PCV licence in record time? Look no further than our 17.5-hour PCV driving course. Designed specifically for busy individuals like you, this intensive program will equip you with all the skills and knowledge you need to ace your PCV licence test.
Join us in our bus, which has been modified to teach you safely, where our experienced instructors will guide you through every step of the process. From mastering essential driving techniques to understanding the intricacies of PCV regulations, we leave no stone unturned in preparing you for success.
Don't waste your precious time on lengthy courses that drag on endlessly. Our 17.5-hour course is tailor-made to fast-track your journey towards becoming a licensed PCV driver. So hop aboard and let us pave the way to your professional driving career!
Ready to take the wheel of your career? Our 21-hour PCV driving course is the ultimate training experience that will put you on the path to success. Designed with your needs in mind, this comprehensive program is perfect for anyone looking to obtain their PCV licence and stand out from the competition.
Hop aboard our modified bus, where our expert instructors will guide you through every aspect of PCV driving. From mastering essential skills to understanding the intricacies of the licensing process, we leave no stone unturned in preparing you for the big day. With our longest course offering, you'll have ample time to build confidence behind the wheel and ensure you're up to standard. We believe in providing a supportive and immersive learning environment where you can ask questions, receive personalized feedback, and fine-tune your driving abilities. Why settle for anything less than excellence? Join countless satisfied students who have chosen our 21-hour PCV driving course as their ticket to success. Don't miss out on this opportunity - enrol now and take control of your future as a professional driver!
Minibus training course in Hampshire.
You might be Interested In: