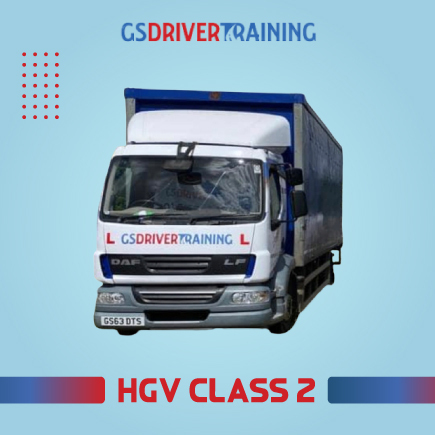 Class 2 HGV 14 hour Course - Additions & CPC (Class 2 LGV/HGV Course)
£1,837.00
£1,837.00
(

In stock

)
Description -
With the help of this Class 2 HGV 14 Hour Course you will get the accurate knowledge of driving a truck that weighs over around 3,500kg, and a trailer that weighs around up to 750kg. The HGV vehicles are called rigid vehicles because these vehicles bear a weight of up to 32 tonnes. You can benefit from these vehicles by using them for commercial use.
If you want to drive HGV vehicles on a commercial basis and want to get the CAT C licence and CAT C1 licence then this Class 2 HGV 14 Hour Course training is for you. With the help of this course training you will be able to get your CAT C+E licence before the CAT C licence.
Additional Courses
You can get the additional types of courses at GS Driver Training which includes the information about the rules and regulations while driving a vehicle on the road. You will get a chance to study these courses simultaneously with the Class 2 HGV 14 Hour Course.
CPC Certificate
The CPC certificate is the most important part of the driving point of view. You have to carry your CPC certificate with you while driving the vehicles on the road. You are not allowed to drive a vehicle without the CPC card, so you must keep your CPC card with you otherwise you will be charged a high fine. You must update your CPC card for further use because the CPC card lasts for 5 years only.
Reasonable Prices
GS Driver Training offers you a lot of things, including additional courses, and high-quality learning with experienced seniors at a very affordable price so you can easily learn things at a very reasonable price.
Experienced Instructors
At GS Driver Training The Class 2 HGV 14 Hour Course is available at the very lowest price. This is the advantage we are giving to you to train yourself with our skillful and well-experienced instructors. With the proper guidance of our team, you will become a professional driver.