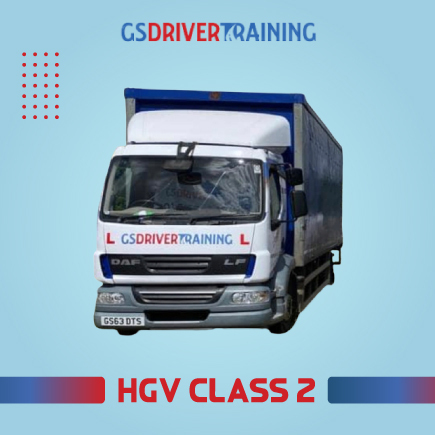 Class 2 HGV 21 hour Course - Additions & CPC (Class 2 LGV/HGV Course)
£2,359.00
£2,359.00
(

In stock

)
Description -
This Class 2 HGV 21 Hour Course is all about driving a truck that weighs over 3,500kg, with a trailer with a weight of up to 750kg. These vehicles are classified as rigid vehicles because they weigh up to 32 tonnes, and are usually used for local and domestic deliveries.
The Class 2 HGV 21 Hour Course training is very beneficial for commercial vehicle drivers in terms of eligibility for the CAT C licence and also you get automatically eligible to get your CAT  C1 licence. According to the new rules by the government,  you are permitted to train yourself for the CAT C+E licence, before the CAT C.
Additional Courses
In GS Driver Training you will get some additional courses at the very lowest price with the best learning. You can apply for the Class 2 HGV 21 Hour Course and our team will guide you with the best.
CPC Certificate
If you have the CPC certification only then you are allowed to drive the HGV vehicles. You have to make sure that your CPC card is up-to-date without any delay. You can update your CPC card by doing a 35 hour training course every five years.
Reasonable Prices
In the GS Driver Training you will get a chance for high-quality learning under the instructions of the senior instructors at the very least cost. You can apply for the Class 2 HGV 21 Hour Course at the GS Driver Training at a very reasonable price.
Experienced Instructors
You will learn everything from the experienced teachers at GS Driver Training. All of your queries will be answered by our professional instructors. Our team will help you to make a professional HGV driver.