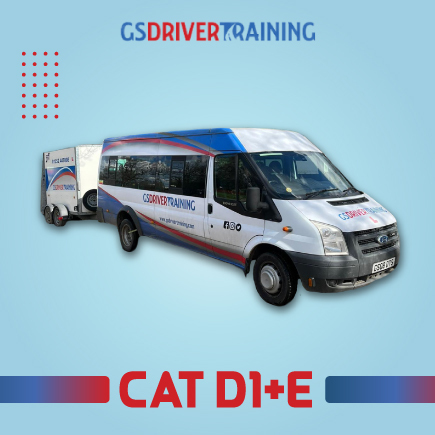 D1+E 10.5 Hour Course - Additions (Cat D1+E)
£1,078.00
£1,078.00
(

In stock

)
Description -
You will learn how to properly operate a minibus and pull a trailer within it in the D1+E 10.5 hour course. A D1+E licence is required if you wish to operate a minibus that meets the same requirements to pull a trailer behind it. You will receive expert instruction from our knowledgeable staff at GS Driver Training along with the necessary guidelines. The trailer's weight should not be more than 750 kg, but the minibus and trailer together shouldn't weigh more than 12,000 kg.
Additional Courses
Simultaneously with the d1+e 10.5 hour course, GS Driver Training offers you some additional courses that will enhance your knowledge.
Flexible Hours
At GS Driving Training you will get the opportunity to train yourself under three different time slots that are part-time, full-time and weekend-based. We provide this service because we value your time and we know how important learning is. That's why we are ready to work according to your convenience, and we make sure to provide you with our best services.
Professional Trainers
Professionalism is a key point of any training or any training center who are going to provide the training to one. At GS Driver Training you will find that the whole decorum is made up of professionality. Here you will get the d1+e 10.5 hour course with the help of our professional team.
Reasonable Costing
People are looking for the best services with the lowest price, but what they get in reality is a big scam. But at GS Driver Training you will get all the necessary services at very affordable prices. Here you will get a professional team, additional courses and great learning, so without any hesitation join us fast.