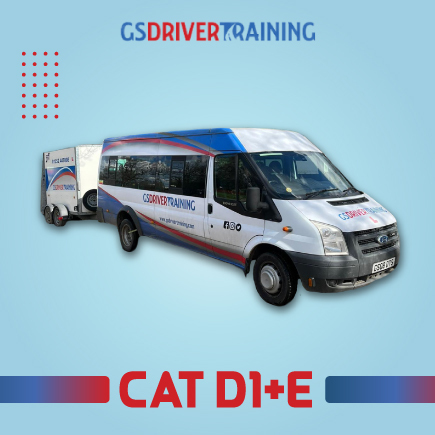 D1+E 10.5 Hour Course - Additions & CPC (Cat D1+E)
£1,428.00
£1,428.00
(

In stock

)
Description -
You will be able to drive a minibus and tow a trailer after completing this D1+E training 10.5-hour Course. All you need is a D1+E licence, which our staff at GS Driver Training will assist you in obtaining. Upon obtaining your D1+E licence, you can effortlessly tow a trailer behind your minibus.
A trailer's observed weight needs to exceed 750 kg. But keep in mind that the minibus and trailer shouldn't weigh more than 12,000 kg altogether.
Additional Courses
To make things easier for you, GS Driver Training is providing a few other courses at a very affordable price along with the D1+E 10.5 hour course.
CPC Card
It is necessary that you have a CPC card when operating HGV or LGV trucks on public roads. If you are caught operating a vehicle without the CPC certification or CPC card, you will be subject to a very steep fine. 
Flexible Hours
You can choose from three distinct scheduling options at the GS Driver Training. You can choose the one accordingly, we provide weekend-based training, full-time training, and part-time training. 
Professional Trainers
You'll discover that GS Driver Training provides accurate instruction and effective understanding. Our staff will provide you with a great deal of assistance in becoming a skilled minibus driver who can tow a trailer. 
Reasonable Costing
One thing should be obvious to you from what you've read so far: we provide our prospects with top-notch services through our knowledgeable staff. To enable you to continue your study, we provide all of these services to you at incredibly low costs.