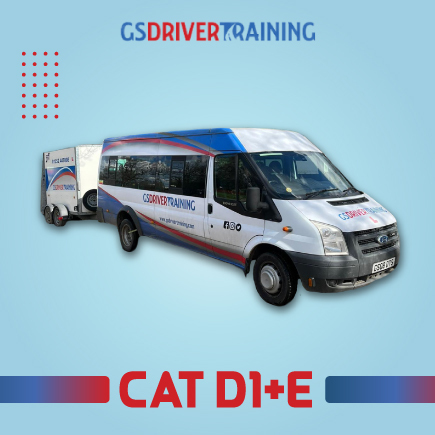 D1+E 17.5 Hour Course - Additions & CPC (Cat D1+E)
£1,744.00
£1,744.00
(

In stock

)
Description -
With the help of this 17.5 hour d1+e course, you will be able to operate a minibus while towing a trailer. All you need is to gain a d1+e licence, for getting this licence our team at GS Driver Training will help you a lot. After getting the d1+e licence you can easily tow a trailer with your minibus.
The observed weight of a trailer should be over 750 kg. But keep one thing in mind the combined weight of the minibus and a trailer should not be more than 12,000 kg.
Things to be Noted for the D1+E 17.5 Hour Course
You should have to obtain a d1 licence before going for the d1+e 17.5 hour course.
Your age should be 18 years old.
You are allowed to drive a minibus only with 16 passengers. 
Additional Courses
GS Driver Training facilitates you by offering some additional courses with the d1+e 17.5 hour course at a very reasonable price.
CPC Certification
A CPC card is very important for you to carry while driving HGV/LGV vehicles on the road. A very heavy fine will be charged to you if you are found driving a vehicle without the CPC certification or CPC card.
Flexibility in Training Hours
GS Driver Training allows you to train yourself at the time that suits you best. That's why we offer part-time training, full-time training and weekend-based training to you at your convenience.
Professionalism in Training
At GS Driver Training you will find that you will get efficient knowledge and accuracy in the guidance. This is possible because of our commendable team and their experience. Our team will help you a lot with making you a professional minibus driver who can tow a trailer with it.
Affordable Pricing
As you read till now, one thing will be clear to you that we are offering high-quality services to our candidates under the observation of our experienced team. We offer all these services to you at very affordable prices so that you can pursue your learning.