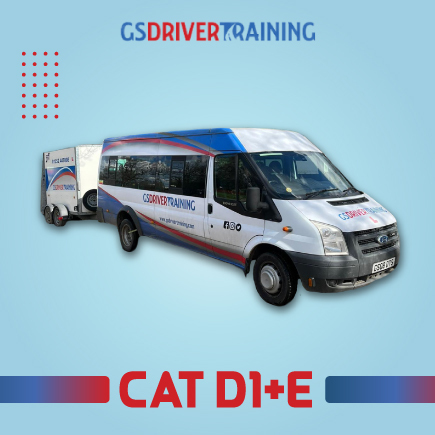 D1+E 17.5 Hour Course - Book (Cat D1+E)
£1,269.00
£1,269.00
(

In stock

)
Description -
The D1+E 17.5-hour course, which is provided by GS Driver Training, covers information about minibuses, their maintenance, and most importantly gives you the licence to operate a minibus and a trailer on public roads together. In other words, this d1+e 17.5 hour course allows you to tow a trailer behind a minibus. It is not recommended to increase the weight of each of these by more than 12,000 kg.  
Flexible Hours
GS Driving Training offers three distinct scheduling options for self-training: weekend, full-time, and part-time. We value education and respect your time, which is why we provide this service. We are ready to work whenever it is most convenient for you, and we promise to provide you with our best services.
Professional Trainers
Professionalism is an essential feature of any training program, or any training facility that will provide it. At GS Driver Training, professionalism is the cornerstone of all good manners. Here, with the help of our knowledgeable staff, you may get the 17.5-hour D1+E course.
Reasonable Costing
 People are looking for the best offers on services, but what they are finding is a major scam. On the other hand, GS Driver Training provides all the necessary services for a remarkably inexpensive price. If you want to take advantage of our knowledgeable staff, additional courses, and fantastic learning possibilities, join us right away.