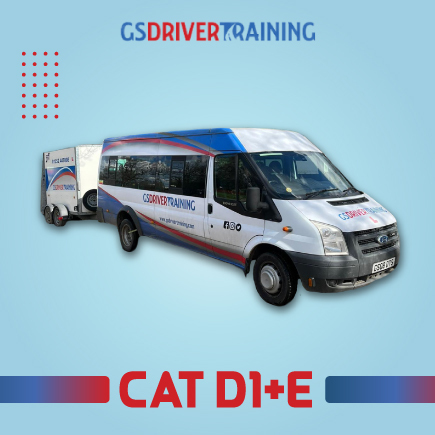 D1+E 7 Hour Course - Additions & CPC (Cat D1+E)
£1,218.00
£1,218.00
(

In stock

)
Description -
The meaning of this D1+E 7 hour course is just to drive a minibus and tow a trailer behind it. For this, you need to carry a d1+e licence, so that you can easily drive the same. At GS Driver Training you will get an opportunity to to be self-trained under our experienced team. The weight of the trailer should not be more than 750 kg, on the other hand, the combined weight of the minibus and the trailer should not be more than 12,000 kg. 
Additional Courses
Enhancement is very much necessary for everyone, but the main point is how will you get the opportunity to enhance yourself. Now there is no need to think more because GS Driver Training provides enhancement to our customers so that they learn something new. For this, we offer some additional courses that are related to the D1+E 7 hour course. 
CPC Card:- If you are a HGV driver or want to be so, keep in mind that a CPC card is very important, no matter whether you are learning or driving. So keep your CPC card up-to-date on time. The basic limitation of updating a CPC card is 5 years. You can update your CPC card by CPC 35 hour course.
Flexible Hours
Hours flexibility matters, because if you do not get time due to your busy schedule, it means you can not learn something new or achieve something new in your life. That's why GS Driver Training offers their customers three different time slots so that they can learn to drive via different courses at their convenience. Full-time, part-time and weekend-based time slots are offered by us to our customers.
Professional Trainers
Professionality plays an important role in every learning, and if you are looking to become a minibus driver who can easily tow a trailer behind it then you can join GS Driver Training. Because we have our experienced team who will guide you properly & professionally and help you a lot whenever you need.
Reasonable Costing
You can not get both quality services and the lowest prices at the same time, that's why often you put yourself in a dilemma where you choose only one thing. But at GS Driver Training you will get high-quality services from our professional team with some additional courses at just a very affordable price. So without any hesitation join GS Driver Training.