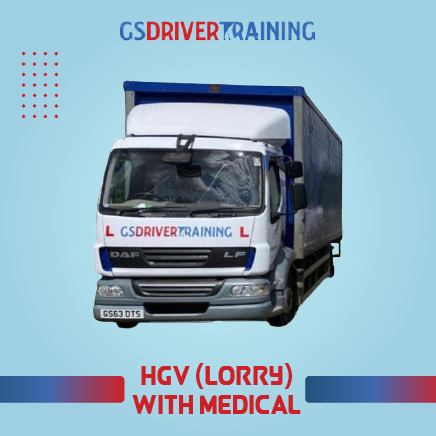 HGV (Lorry) With Medical
£150.00
£150.00
(

In stock

)
Description -
HGV Driver Training in which you learn how much concentration is important if you plan to drive an HGV vehicle on the road. Once you gain the accurate knowledge of handling the  HGV vehicles then you will be able to easily drive any LGV vehicle.
What is Included in the HGV Medical Test
The first part which is conducted by the HGV expert medical doctor is an interview in which a general conversation regarding safe driving with proper medical health occurs between the doctor and the candidate. It is the responsibility of the candidate to give all the answers with honesty.

The second part is all about the physical medical examination in which the doctor will check the vision, disabilities and some tests regarding alcohol & drugs, etc. The entire process hardly takes 30 minutes. A DVLA form is given to you that you have to submit directly to the authorities.
What Are the Major Fitness Goals in the HGV Medical Test
The HGV Medical exam is essential for the driver to clear so that they will easily proceed further. The three major medical checkups that will be done by the medical conductors are eyesight, alcohol and drugs and sleep disorder. You have to go through these three before going to the HGV Medical test.
Eyesight:- Your eyesight is a very sensitive part which requires a lot of care. So it is important for you to pass your eyesight test because with weak eyesight you will not be able to drive HGV vehicles.

Alcohol and Drugs:- If you are addicted to alcohol and drugs then this HGV course is not for you. Because a chronic alcoholic person can not hold HGV vehicles on the road. This is the main aspect of the HGV Medical exam.

Sleep Disorders:- The main reason for accidents on the roads is lack of sleep among the drivers this will lead to a lack of concentration, and that's why road accidents become more common. The HGV With Medical exam is very important because this will indicate the symptoms of sleep disorder in the drivers. In this situation you need to be honest and if you are suffering from a sleep disorder then it doesn't mean that you are going to be disqualified. As soon as you recover from this problem you will be able to train yourself for the HGV course.