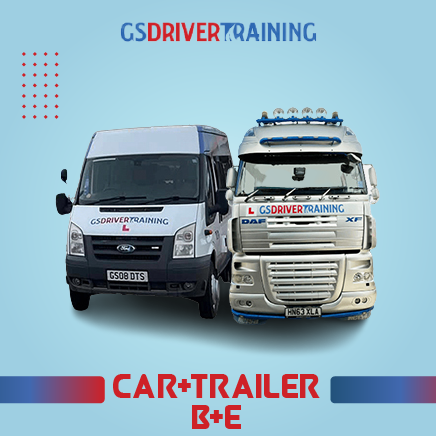 1 Day Courses - Book (Car + Trailer B+E)
£500.00
£500.00
(

In stock

)
Description -
The B+E 1-day course, commonly known as the B+E car+trailer course, is required if you wish to tow a trailer with your car. You will receive correct guidance and answers to all of your questions in this course, enabling you to operate a vehicle that can tow a trailer with ease. After completing this course, you will be able to operate an automobile that satisfies category B requirements, even if the car is carrying a trailer weighing up to 3,500 kg.
Some Precautions in Terms of Towing a Trailer on the Road
Weight measurement is very important before towing a trailer.
 
You have to follow the necessary guidelines like installing mirror extenders. 
 
Turns and U-turns are a very crucial part so be careful while performing that on the road.
1. Does Towing a Trailer Require the Use of any Additional Specific Licences?
No, there is no need for any specific driving licence for towing a trailer. All you need to carry your car driving licence with you whenever you are going to tow a trailer.
2. What is the Specific Age Limit for Towing a Trailer?
Your age should be 18 years or above for towing a trailer.
3. What is the Required Speed Limit When Pulling a Trailer?
The car and towing trailer should have a maximum speed limit of about 60 miles per hour, while other vehicles should have a speed limit of about 50 miles per hour.