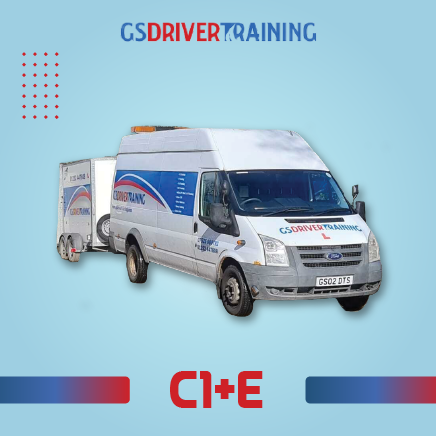 C1 14 Hour Course - Additions & CPC (C1+E)
£1,544.00
£1,544.00
(

In stock

)
Description -
Comprehensive C1 14 Hour Course: Our training courses provide a comprehensive C1 14-hour course designed to equip aspiring drivers with the necessary skills and knowledge to operate C1 vehicles confidently and safely.
Additional Modules: In addition to the core C1 training, we offer supplementary modules that cover key topics such as vehicle additions and the Certificate of Professional Competence (CPC). These modules enhance your understanding of vehicle modifications and ensure compliance with CPC requirements.
C1+E Training: Our training program also includes specialized C1+E training, which helps you to drive larger vehicles with trailers. You will learn the specific strategies and rules associated with towing, expanding your driving abilities.
Expert Instructors: Our highly experienced instructors are skilled professionals who give hands-on training and personalized guidance throughout the course, ensuring that you obtain the highest quality instruction.
Practical and Theory Components: Our C1 14-hour training course combines practical on-road training with theoretical classroom sessions, offering a well-rounded learning experience that qualifies you for both the practical and written exams.
Flexible Scheduling: We provide flexible timing opportunities to accommodate your availability and needs. Whether you choose weekday or weekend lessons, we strive to provide convenient training slots that suit into your busy timetable.
Reasonable Pricing: Our C1 14-hour course, including the additions and CPC (C1+E) modules, is competitively priced, making it reasonable option for people looking to advance their driving career.
Start Your Journey: Embark on your journey to becoming a professional and certified C1 driver with our C1 14 Hour Course. Acquire the required skills, knowledge, and capabilities to thrive in the transport industry with confidence. Contact us today to enroll or learn more about our course.