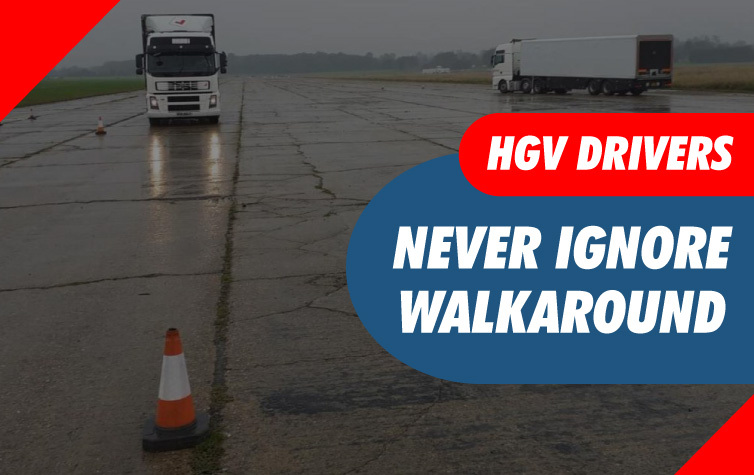 Many times, it is simple for us to expect that you are working under the safe, powerful machine and as a professional HGV driver. You have too much duty about your work like you not only deliver goods but also drive be careful because it is your primary responsibility to keep your vehicle secure.
We put some vital measurements before the situation, so, you need to read it very carefully, and many road users are affected by walkaround checks. As drivers are legally responsible for the situation of the heavy vehicle they are driving, they must take out these walk around checks. The effects of the checks must be recorded, and any safety faults must be informed and fixed before the vehicle can be driven. 
HGV Drivers' Walkaround Checks Procedure
There is some essential walk around checks, and you need to read the entire Walkaround Checks Procedure:
1. Brakes 
You need to check your brakes and brake lines and make sure both are in good condition and not cracked.
2. Check Your Mirrors and Windows
Check they're not damaged or covered with stickers, that you can see them properly and they're not steamed up. Check also that the mirrors are showing the right direction to give you the best visibility.  Sometimes gleaming images cannot be visible to drivers, then, Wiper rubbers and water levels must clean the screen effectively. 
3. Steering
Check your steering wheel moves well and doesn't jam. Make sure the wheel is not blocked an in full working system.
4. Horn 
The driver uses the horn to alert others of the vehicle's appearance or the presence or to call awareness to some risk. So, Test the horn works properly.
5. Instruments 
Make sure that all your tools in the cab are working, including gauges, alert devices, windscreen wipers, and ABS signal lights.
6. Lights and Warning Lamps
All outer markers and dashboard lamps must be bright and visible – including risk signal lights, air, fuel, and speedometer scales.
7. Electrical Connections
Firstly, you need to check all electrical connections that it is working or not, and if these are not working then, you need to test each one individually. 
8. Load 
Assure your load is secure and its weight is exactly divided throughout the HGV (LGV). It is not making your vehicle lean to one side and isn't too large for your truck, drawing it towards the area. 
9. Number Plate
Check that the number plate is attached this should be displayed.
10. Maintain the Line 
Check the vehicle carefully that there is any leakage in the line, you need to check correctly.
Driving a Vehicle with Defects Is a Crime
Performing the VOSA daily walkaround   checks is a legal obligation, and it's an excellent plan to put aside a minimum of five minutes to do so. To verify you've carried it out, insert your card into the tachograph and turn it to the 'other work' method before performing this task.
If you notice any fault in the vehicle then, don't be ignoring, send the report about the issues immediately. Complete your inner and outer checks because after these checks you are able vehicle is legally secure and that you'll be well covered in case something is happening on the road, after that they pay some fine for this type of condition. So, HGV drivers need to reduce the number of defects.
Also Check: HGV/LGV Driver Training - London 
You might be Interested In: