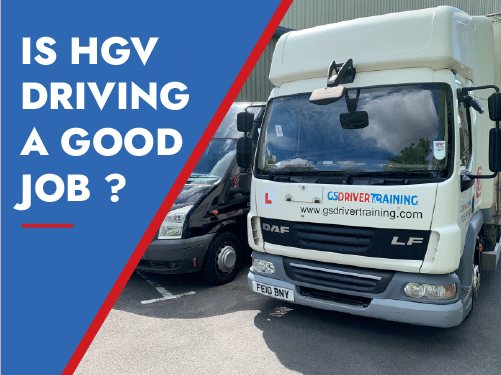 Does the idea of open roads excite you more than close cubicles? Do you enjoy loud music more than colleague's gossip? Then, you will love the cab life. If this freedom and flexibility sound spicier to you than office politics an HGV is a perfect fit for you.
If you are looking to start a new career or change paths, you can count HGV driving as a great career option with endless opportunities. Thanks to the high rising demands, the HGV world will welcome you with open arms; it is indeed a lucrative and rewarding career in 2022.
Before you select a particular career, you should consider all aspects of the field. Will it suit your lifestyle and personality? Will it be easy to learn skills for you? Is there enough availability of jobs? Well! The growing demands have left no trace of availability or income issues in the logistic sector. Not only that, but it comes with more amazing benefits too.
Here we have listed seven reasons to help you decide if HGV driving is a good job for you or not!
1. Plenty of vacancies
While looking for a new career, your main concern may be enough availability in your chosen field. In the wake of emerging businesses and heavy online deliveries, the haulage sector is flooding with new vacancies. Transportation delay is already affecting many industries. Recent estimation showed a shortfall of 3 lakhs drivers in 2022. This shortage has been rising for the last few years. And it is not going to end soon, so it has never been easier for a qualified driver to reserve a valuable position in the industry
2. Job Security
An insecure job can punch you anytime in life. Nearly all job markets are overflowing with aspirants that make them insecure. In contrast, you can enjoy a secure and stable job in the logistics world. If you are qualified and have a licence, you won't have to worry about opportunities. The industry is desperately looking for qualified people to enter their workforce; you will never struggle to find work.
3. Keep Travelling
If you are a travel enthusiast and love exploring new places, HGV pays you to do what you love. While you need to plan and save for tours in other jobs, HGV driving can satisfy your adventurous spirit every day. It allows you to drive through beautiful roadside scenes and many unknown places. You can taste new dishes, see diverse cultures and meet new people from all over the country.
4. Enjoy your Freedom
If you enjoy your own company and freedom of choice, then lorry driving is perfect for you. Not everyone belongs to the conventional 9 to 5 office club. Unlike this, a driving career allows you to control your hours with no boss ruling over you. There are driving schedules and deadlines to follow but you decide when you eat, sleep and when you take a break.
5. Numerous Options
You can play with a variety of options as an HGV driver. Sometimes you can be on long journeys across the country, at other times you can find yourself supplying to local areas. From heavy deliveries like steel and automobile parts to food deliveries to the supermarket too. Further to this, you can choose to work under a company or as a self-employed driver. Each has its benefits. As a self-employed driver, you can set your timings and holidays. On the other hand, the company perks and bonuses such as paid holidays and routine can entice you to work for a company and being employed.
6. Excellent Pay
Now, this is the most important consideration for a job. With the outburst of pandemics, haulage service has become a valuable part of the UK economy. So, rest assured that you will be well compensated for your crucial role in UK supply chains.
The earning potential depends on many factors:
The level of training and qualification you possess
Your experience as a driver
The type of cargo you transport: Heavy and risky loads would have a higher pay rate.
Working hours: Long journeys would be more lucrative than local journeys.
Your employment status and your employer.
Routes: Difficult or easy routes
You can earn a decent salary of £19-24k in your initial phase. Additionally, you can expect bonuses for obtaining a safety rating and standard licences.
Like other jobs, the same principle applies here: learn more to earn more. As you gain more experience and qualifications, you can move up the career ladder and earn more. You will be able to manage heavier and bigger Lorries. Consider joining a good HGV training program. With advanced training and licence (Class) you can easily achieve an income of 40k per year.
7. Getting the licence is easy
The first requisite to become a professional HGV driver is to get an HGV category C licence. Having a licence in your pocket can be a world of opportunities for you. 
Qualifying for lorry driving requires less effort compared to university graduation, it takes much less time and money to finish HGV training and start making money. It won't seem expensive once you look forward to the satisfying and rewarding job on your way.
You will need to pass through different tests to obtain the licence. With a professional training program, you will qualify with ease for a commercial licence. By enrolling with a good trainer, it will take just a few weeks to learn and be confidently on your way to join the HGV industry.
At GS Driver Training, we will guide you through the entire process to become a proficient driver. We will assist you with practical driving hours, practicing heavy Lorries, different challenges, road safety, and finally getting the HGV licence. Whether you are a fresher or someone seeking promotion, you can expect a boom after training with us.
If you want a career in HGV driving, start your journey with GS Driver Training and be confident we will give you all the training you need to pass your licence test the first time. 
Also Read: Commercial Driving Licence
You might be Interested In: