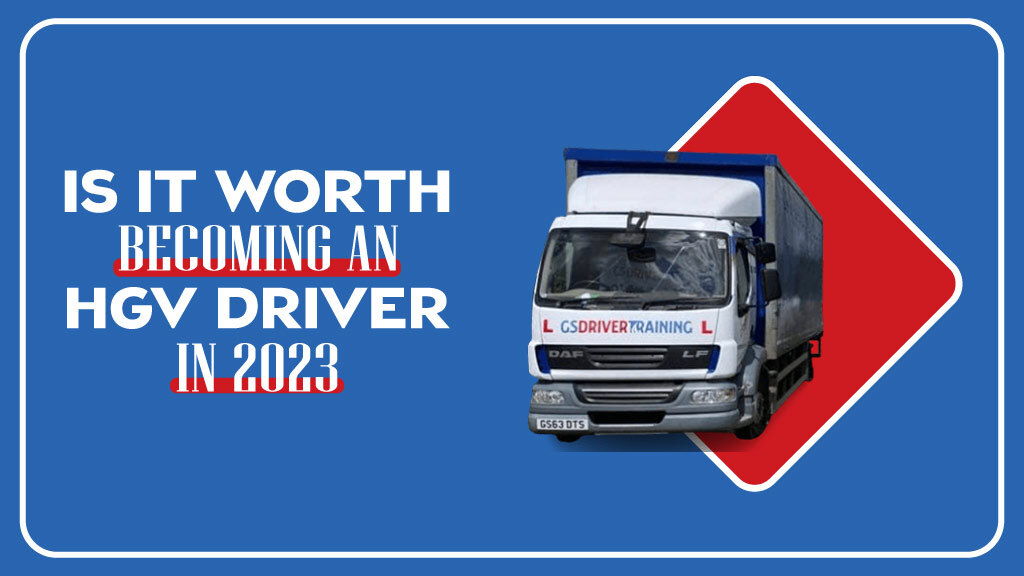 If you are considering a driving job then you might be wondering whether it is worth becoming an HGV driver or not. You might have heard a lot about HGV driving either good or bad. Some might say it is a wonderful career along with good pay and benefits and others say it takes a long time to become an HGV Driver. 
So, what you need to think about is it is a good career to become an HGV driver in 2023. The term HGV stands for Heavy Goods vehicle and needs to drive big Lorries and delivering goods for lots of different companies. As an HGV driver, you will be responsible for transporting the goods from one city to another. The HGV drivers can work locally, nationally, and internationally.
The Lorry drivers need to spend a lot of time depending on their work and can spend a lot of time away from your home. Also, it is common for a lot of HGV drivers to spend the night in their lorry and sometimes they remain far away from their home. The working hours of an HGV driver can be typically long and it ranges between 45-50 hours each week.
The HGV Driver will be responsible for loading and unloading the goods and making sure that everything arrives at your destination. The HGV drivers generally work alone and this is often positive for many of the people as they can enjoy the freedom that comes with it.
How to become an HGV driver?
If you are looking that is HGV driving a good career then first you need the valid UK driving licence. After that, you need to do your HGV class 1 and 2 Training that will teach you how you can drive Lorries that carry goods up to 44 tons. 
You need to remember that training is a mixture of practical and theory and there are four tests that you must take. An HGV driver training combines the cost of around $1000 but you also need to compare the cost with other training courses. Once you will qualify for these tests then you will be in high demand as there is a current shortage of Lorry drivers.
The current Lorry driver shortage is estimated near about 70,000 drivers and still, the companies are constantly looking for newly qualified drivers. It means that you won't be struggling to find work. When you get trained as an HGV driver then both your services and skills are likely to be in demand for some time.
Lorry Driver Salary:
Now, you might be wondering how much pay for an HGV driver is! Well, there is a fair amount of training that you need to complete; you have to drive Lorries at night and staying away from your home for long hours.
The lorry drivers starting wages remain between $19-$24K. The more training you will receive more the experience you will have. Also, you see increasing numbers dramatically and the most experienced and qualified drivers can expect and can earn up to $40K per year and maybe more.
In the end, we can say that HGV driving is a valuable and rewarding career and in the year 2023, it becomes important than ever. With fewer people going out to buy things, good transportation is more useful than ever. Also, due to the current shortage of drivers, you will almost get guaranteed a job with a reputable company and you can get a chance to make a solid income when job instability becomes a real problem for you.
Some of the responsibilities of an HGV driver:
1: Vehicle checks:
Before you started doing anything you will need to check your HGV vehicle. Even if you delay it for yesterday then you will still need to perform these checks as the first task of the day and make sure that everything is safe and secure.
This includes checking the tire pressure, checking for damage, and ensuring that all fluids are topped up. You need to make sure that no one is getting snuck into your HGV vehicle. The criminal problem might sound excessive but it is a real problem particularly for long-haul drivers.
2: Loading:
Once you checked your vehicle over time then it is time to load it up with goods. This is again a pretty consistent part of your job as an HGV driver and most of the companies will find you to be responsible for loading up your trailer.
But you don't need to worry as if you take an extensive training course then you will be able to uplift the goods and transport them from one location to another.
3: Driving:
Once your HGV is properly checked and loaded well then it is time to get on the road. It is the best part of the job for most of the drivers and also it is the time that they can be their boss and can schedule their interview. 
As long as you meet your driving time limits and you want to deliver the goods at the appropriate time then you need to eat well, sleep well and take a rest, look what route you take and at what speed you will drive the vehicle. You can do a 9-hour shift in which 8 of those hours will be your own, alone behind the wheel.
4: Unloading:
Once you get to the other end then it is time to unload. So, it is essentially loading in reverse and helping the customers to get their products where they want them in their warehouse.
In most of the jobs, you will do a return delivery so you will need to load up the HGV with another set of goods before you head towards your home. In others, you won't have a return delivery that will be the end of things.
Within the HGV industry, there is a choice of a career type of whether you are going to be a short-haul driver or a long-haul driver. The short-haul drivers usually focus on shorter tips while long-haul drivers will drive long journeys on the international deliveries.
However, if you are a short-haul driver than your average days follow the pattern and the working hours might belong. Since HGV driving is never a 9-5 job, but deliveries will generally stay and you will likely end up working 1 delivery per shift. But if you might end up driving cross country then you are on shorter trips than long-haul drivers.
Long-haul drivers are responsible for shipping goods across multiple countries thus their lives look a little different. They need to stay away from their homes for a longer period and passing through different countries in order to reach their destination.
While being an HGV driver you need a different kind of knowledge and specifically around international shipping. Long-haul drivers always remain in high demand. So, if you don't want the mind to spend few days on the road this job could be a better option for you.
Types of HGV vehicles you can drive:
1: Class 1/ Cat C+E: It allows you to drive a vehicle with a detachable trailer and is commonly known as an articulated lorry over 7.5 tonnes.
2: Class 2/Cat C: It allows you to drive a vehicle over 7.5 tonnes and has a rigid base and fixed cab.
3: Cat C1: It allows you to drive a vehicle between 3.5 tonnes and 7.5 tonnes.
4: Cat C1+E: It allows you to drive a vehicle in category C1 with the additional allowance to tow a trailer behind the vehicle.
5: Cat D: It allows you to drive a bus or coach or vehicle designed to carry passengers.
Benefits you will get being an HGV driver:
1: A Lorry driver Salary:
Your truck driving pay will mainly depend on your experience, qualification, company, and hours of working. The starting salaries of HGV driver ranges from $ 19,000-$24,000 and this figure can be rise if you are willing to travel for long hours. At the other end of the scale, a driver scale can get an increase up to $40,000 with relevant experience and training.
2: Shortage of HGV Drivers:
There is a shortage of 76,000 HGV drivers in the UK but now the haulage industry is increasing day by day. Now, there is a lot of importance of HGV drivers and the result is there are hundreds of companies who are looking for new and reliable drivers to join their workspace it means there is plenty of driving available.
3: Independent driving:
If you want to drive in your own space then an HGV vehicle is a good fit for you. Moreover, you will have schedules, deadlines and it gives you a great deal of independence. Thus, you are free to choose when you break, sleep or eat and what you do in the evening. In short, you will get complete freedom while driving these large vehicles. So, we cannot say that there is a shortage of HGV drivers in the UK. Hence, it is a good option to choose a career in the HGV driving field. 
Also Read: What is C1 on driving licence ?
You might be Interested In: