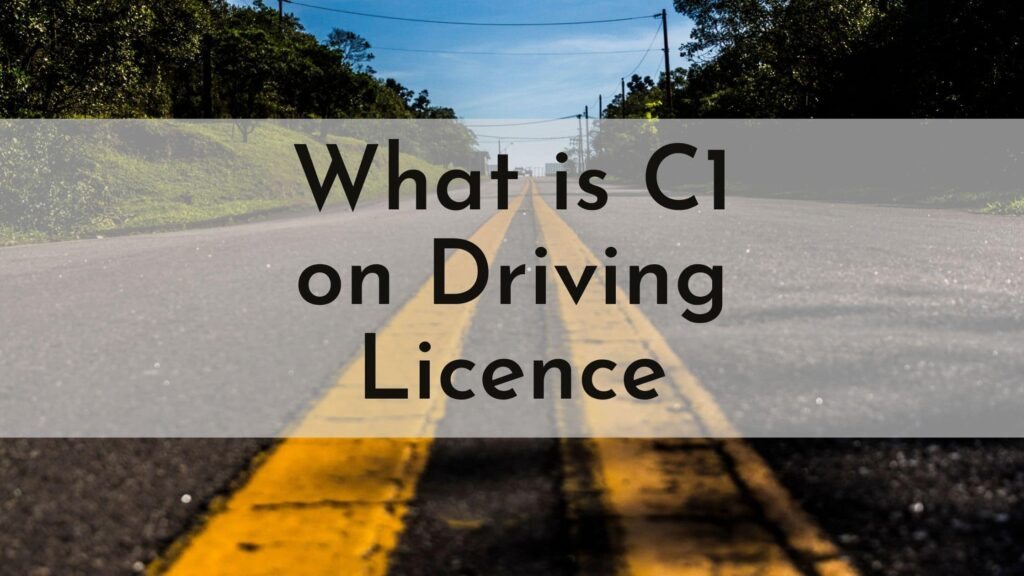 What is C1 on driving licence? Many people want to know the answer to this question. A C1 driving licence means that you can drive a rigid vehicle up to 7.5 tonnes and a trailer up to 750 Kg. So, if you obtain a C1 driving licence then you can drive a medium-size vehicle over 3,500 kg up to 7,500 kg. 
Once you have passed your C1 driving test then a new range of jobs will be available to you.You can also get jobs like delivery drivers or even a paramedic or ambulance driver.
Moreover, you will have a background in emergency services and you will get benefit from it. It has been seen that there are lots of medical trusts where they will need applicants who are having a C1 driving licence before they can gain employment. Now, when you know What is C1 on driving licence then here are some of the benefits of it:
How To Get A C1 Licence?
There are a lot of queries mentioning how to get a C1 licence, then you first need to know that a C1 licence is a vital part of the transportation industry and there is a proper process that is to be followed to have better and safe driving experiences. When you are applying for a C1 driving licence first go through the medical tests and afterward it involves three theory tests; these are Multiple-choice test, hazard perception test, and case study.
The multiple-choice test usually consists of 100 questions covering how to safely and proficiently drive such large and rigid vehicles, also 85 out of 100 should be correctly answered to clear it for the next round which is the practical test then you properly need to drive the vehicles as per the criteria mentioned by the government for the same. Once all these aspects are completed you then get a C1 licence legally.
Perks of having C1 on Driving Licence
1: The category C1 training course allows you to drive a medium-sized vehicle up to 7,500 kg like Ambulances, Horse Boxes, Removal Trucks, etc. 
2: However, if you are looking to get your Cat C1 driver licence then you should get trained in some professional driver training company and learn the C1 driver training course so that you can drive the vehicle safely and effectively. 
3: Both the work and pay for a 7.5-tonne delivery the drivers are comparable to category C. 
4: The C1 driving test vehicle is easier to pass the test. 
5: The prices of these courses as compared to category C are much cheaper. 
6: Employment opportunities for a C1 driving licence are very good. 

Requirements for the Test:
If you want to know How to get a c1 driving licence then you have to complete few tests before getting the C1 driver's Licence. Some of these things include:
You should ensure that all the paperwork should include D2 and D4 forms are completed.
You need to set up the LGV theory test.
There are some courses that you need to get through the test based on your experiences.
Once you have completed all the stages i.e. leading you to book the test for you and you should choose the right course for you.
How you can gain a C1 Driving Licence?
In order to gain a C1 driving licence then following are the steps to follow:
Request D2 and D4 forms from DVLA.
Book a medical with the doctor.
Send forms to DVLA along with your current Licence.
If you have your C1 book then the following tests should be taken and these are:
1: LGV Cat C Multiple Choice. 
2: LGV Cat C Hazard Perception When you pass your theory test then it is time for the practical training test.
Things that are Involved in the C1 Driver Training Test:
1: The questions will be asked regarding vehicle safety. 
2: Reversing exercise. 
3: 60-minute practical drive. 
4: One should drive in accordance with the highway code. 
5: Complete 10 minutes of independent driving. 
6: Anticipation and Planning. 
7: Vehicle positioning for Hazards. 
The C1 driving licence is for anyone who is looking to drive over 3.5 tonnes up to 7.5 tonnes. Also, it is a very popular licence that most of the people wish to drive the heavy as well as smaller vehicles.
However, there are several steps that you should need to complete in order to gain the C1 licence. At first, you need to get the provisional category C1 added to your licence and this requires forms D2 and D4 to be completed.
The form D2 is to have the provisional i.e. added and D4 is the medical form and it must be completed. The time that you have added the provisional then you must need to pass the multiple-choice and hazard perception theory tests before you can take the practical driving course and test. It is depending on your age for gaining the licence and for this you have to complete the Initial CPC modules 2 and 4 and if you are unsure about any part of the process then you must consult some reliable training center. 
When it comes to licensing then there are few key differences as there are different kinds of commercial vehicles that one can weigh over 3.5 tonnes, licensing authorities, different categories to test the skill of drivers.
The person can only drive certain types of vehicles if you were holding the right licence for it. This means that the drivers need to choose the best driving course. 
Category C1 is a basic level of HGV training and licensing that you can easily achieve and this licence allows you to drive a vehicle of 3,500 kilograms as long as that vehicle is under 7.5 tonnes in gross weight.
Also, there are very few limits to what the form of a vehicle can be. It can be either set up as a lorry, or a truck-tailor set up in which you tow a trailer. The one who has passed their driving test can automatically have a licence so it is worth checking to see if this same applies to you.
The C1 driving Licence also allows people to drive vans up to 7.5 tonnes. The drivers who pass the 7.5 tonnes then C1 test will become entitled to drive C1 if you would like to drive a C1 vehicle with a trailer over 750 kgs.
Also, you have to pass the C1+E test and the C1 licence is very useful for those people who are seeking employment for local delivery companies can make use of 7.5 tonnes in order to deliver their products.
C1 licence is required to drive any type of larger vehicle and it is extremely useful for those who are looking to find a career in delivery driving or transportation. Most of the companies make use of a 7.5-tonne vehicle as a part of their business and it is more often than holding the licence in order to eligible for the job. So, before you can go about getting the upgraded licence then you need to ensure the following thing.
1: First, you should over 18 years old.
2: You should have a good eye-sight.
3: You must have a full, unrestricted Cat B car licence.
4: You should be competent in speaking English.
5: You have to pass a medical test. When assuming your medical test is quite successful and then the next step is to apply for a provisional licence from the DVLA.
Also, this is free and it will also allow you to get behind the wheel of an LGV in order to practice for your full licence. Cat C1 driving licence entitlement allows you to drive a truck up to 7.5 tonnes or 7,500kg.
The test for a Cat C1 licence is a lot more than that of a regular driving test. Due to the dangers associated with larger vehicles you should know how to drive the vehicle on the road. Due to this reason, the pass rates remain high so taking training courses are highly effective.
You will take the test in whichever vehicle you trained in and you should feel more confident going into the test environment. So, once you have passed the test then you will receive your new, upgraded Cat C1 licence and this will open up a wide range of doors for you. Also, you will be eligible for many types of drivers, delivery, and transportation goods.
You can transport the goods from one location to another by HGV vehicles and if you are looking for a career in this field then it is recommended you should follow these things:
1: One should be reliable.
2: The person should be organized.
3: When a person is driving then they should remain calm under pressure.
4: Possess excellent driving skills.
5: They should have vehicle maintenance skills.
6: One should have excellent communication skills.
In order to become a successful HGV driver, the person must enjoy the experience of driving on an open road. You must also be prepared to be flexible with your working hours and in this way, you should spend time with your family.
While having a proper driving licence shows that you are entitled to drive unaccompanied on UK roads. However, not having all the driving licenses are equal and most people are not aware that the vehicles you are permitted to drive on your own license may vary on your age, the date you have passed your driving test.
Category C1 licence is the basic level of HGV training  as well as licensing that you can achieve, This C1 driving licence is essentially a step from a regular UK driver's licence and allows you to drive a vehicle of 3,500 Kilograms and as long as that vehicle is under 7.5 tonnes in gross weight.
Also, there are very few limits to what the form of that vehicle can be. It can be either set up as a Lorry, truck, or a tractor tailor in which you tow a trailer. Thus, applying for this licence is worth it.
While the driving licence for a heavy good vehicle is not as same as a CPC card. Also, the available training test is the same for the two documents. The only difference is that the CPC card makes you eligible to drive a lorry professionally while the driving licence doesn't.
The people who don't want to work as professional lorry drivers must need to pass 4 tests. The person must pass the two tests theory test and the driving ability test.
In order to get a provisional lorry driving licence it is essential that the applicants need to order forms D2 and D4 from DVLA. Here the D4 form test is related to the medical examination.
Thus, it needs to be filled in with the help of a doctor. This could be either your GP an optician who might need to fill in the section about your eyesight, a private firm who is specialized in driver's medical exams.
Remember that you can only apply for a provisional trailer C+E licence where you will get the full licence for the vehicle you will be driving. Once you see that the documents are filed properly then you should be sent together with your photocard driving licence to DVLA. This is What does c1 means on a driving licence. 
You should make sure that the driver must have a medical when they started applying for a provisional licence for obtaining the C category and also it should be must renew their medical after every 5 years from 45 up to 65 and then annually from 65.
The drivers who will pass their Category C practical test and then they apply for any provisional licence test then they don't need any another medical. However, if a driver gains entitlement, then a medical must be renewed after every 5 years.
When driving large heavy vehicles then make sure that you have a driver CPC card while driving. In every 5 years you must:
1: Take 35 hours of Driver CPC training in order to keep your driving professionally.
2: You need to renew your lorry or bus driving licence after some time.
3: However, if you are above 65 years above then you must renew your lorry or bus driving licence every year. Otherwise, you get a $50 fixed penalty for driving professionally without your driver CPC card.
4: You must have passed the driver certificate of professional competence part 1 theory test before you can book the Driver CPC.
5: Also, your practical test will last about only 1 hour and 30 minutes, and this include:
1: Vehicle safety questions.
2: Practical Road driving.
3: Off-road exercises.
Once you have taken the practical test then your examiner will tell you whether if you have passed and then explain how you did. The person can pass your test if you make the following things:
1: 15 or fewer driving faults.
2: There should be no serious or dangerous faults. 
Also Read: How much is the C1 Licence cost and C1 Training Cost?
You might be Interested In: