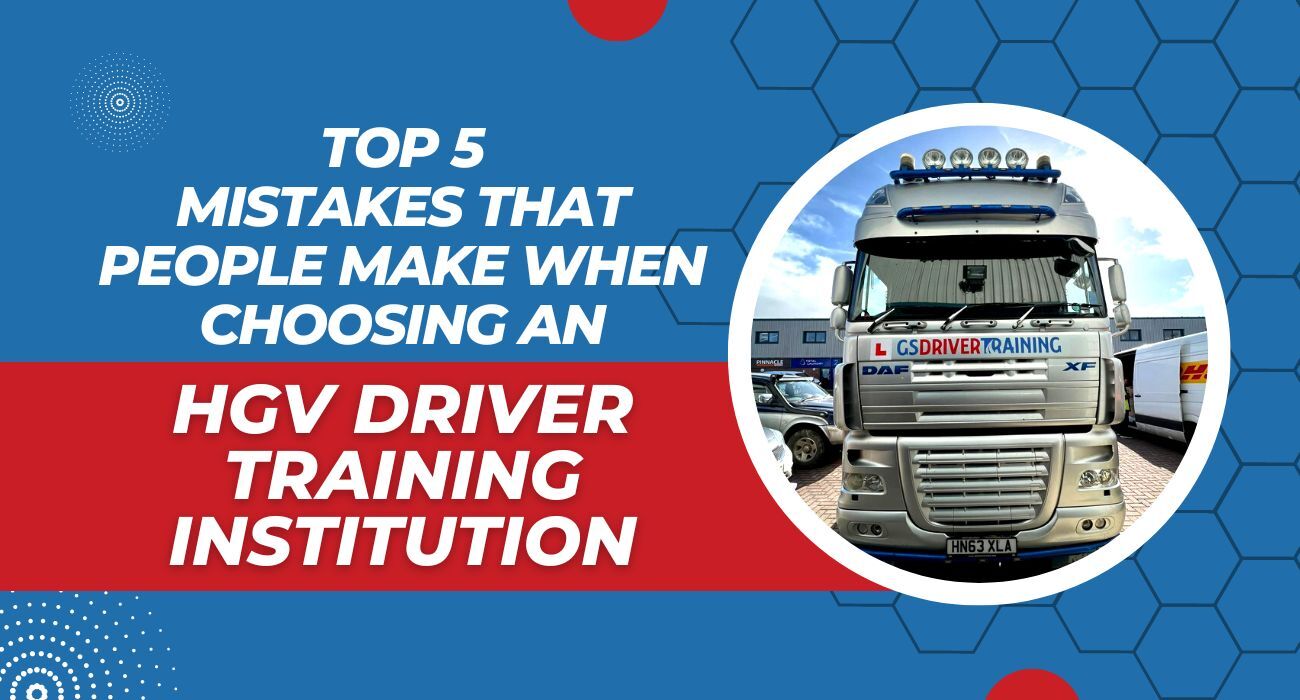 Besides, there are so many factors that you should put into consideration before choosing an HGV training institution.
In a nutshell, HGV stands for Heavy Goods Vehicle, meaning you will be in charge of a machine that weighs thousands of kilograms.
As such, ensure that you go for the best instructors as many lives will depend on your level of competence when on the road.
Since GS Driver Training cares about your safety and that of those around you, we will highlight some of the things that you should consider when choosing an HGV training school.
As an institution, we are proud to say that we are the best in the region. We have professionally trained candidates from different parts of the country, so you can fully rely on us.
By training with us, you will acquire both theoretical and practical skills that will help you pass your driving test with flying colors. As stated earlier, getting your HGV license from the right training institute is very important since it makes you more competent even when operating the largest vehicles.
One thing that you should keep in mind is that the HGV training industry is not heavily regulated, so it is up to you to ensure that register with the right team.
Without further ado, here are the top mistakes that people make when choosing an HGV training school.
1. Going for the Cheapest Option in the Market
As a consumer, it's only natural that you'd like to save a few pounds when getting services. However, when it comes to HGV training, going for the cheapest option may not be a good idea.
Legit HGV training institutions like GS Driver Training offers some of the best prices in the market. Our charges are not too high, and neither are our services cheap.
Plus, we will ensure that you get proper training in all the courses that you will take, so you can rest assured you will get your money's worth.
We have a detailed fees structure that will give you a clear explanation of everything that you are paying for.
2. Registering for an HGV Course before Visiting the Training Institution
Before registering with any HGV training school, ensure that you visit the place. This is mainly because training companies vary in terms of training style, the type of vehicles used for training, just to mention but a few.
By going to the place, you will have the first-hand experience and will also get a chance to meet the instructors that will guide you through your course.
As such, you will be in a better position to make the right decision as to whether you want to register with the institution in question or not. That being said, you should avoid signing up for HGV training courses via phone or email.
At GS Driver Training, we are always ready to meet potential candidates, so you are more than welcome to visit us.
3. Not Confirming Locations
When choosing a training institution for your HGV course, you should go for a company that is close to your residential area.
Traveling long distances for your training lessons may inconvenience you in several ways. If you reside around Aldershot, Surrey, Hampshire, or Berkshire, GS Driver Training will provide you with the services that you need.
4. Relying on Google Search
With the advancement in technology and the invention of Google, people can find just about anything online. When searching for an HGV training institution, you may be tempted to use Google or other search engines.
Nonetheless, the results that you will get may not be as reliable because some of the companies that top the list are not as legit as they may seem. If you are based in the UK, the best you can do is visit trainingmentor.co.uk since it offers reliable search results. Besides, all you have to do is key in your location and the category of course that you want to take.
When you key in towns like Aldershot and Surrey, you will notice that GS Driver Training is among the top training institutions in the area.
5. Not Knowing Who Is Training You
If you are looking to get the best training services, you should check if the person training you has the right qualifications.
The truth of the matter is that just about anyone with a valid HGV licence can offer a lesson or two to a beginner. However, that does not mean that they are qualified to train other people.
HGV instructors take years to cultivate the right set of skills that they can pass to their students during the training process.
How Do I Register for an HGV Course at GS Driver Training?
GS Driver Training has a website that will provide you with all the information that you may need to make an application. Aside from that, they also have reliable customer service that will answer all your questions when making inquiries.
Through their website, you will be able to view some of the courses that are offered, so you can make your selection based on what matches your preference.
Upgrade Your HGV Driving Skills
You can take your HGV driving skills to the next level by registering for our training services.
GS Driver Training cares about your driving needs, and that is exactly why our team is made up of skilled instructors who will provide you with proper training.
We know what is required of us, so you won't have to worry about anything. Also, we offer our services at a favorable price, thus making GS Driver Training a suitable place for all candidates.
With our help, you will be able to achieve all your goals in the HGV industry. The skills that you will learn from us will not only make you an excellent driver but will also boost your level of competence. 
Also Read: How to get Commercial Driving Licence in UK
You might be Interested In: