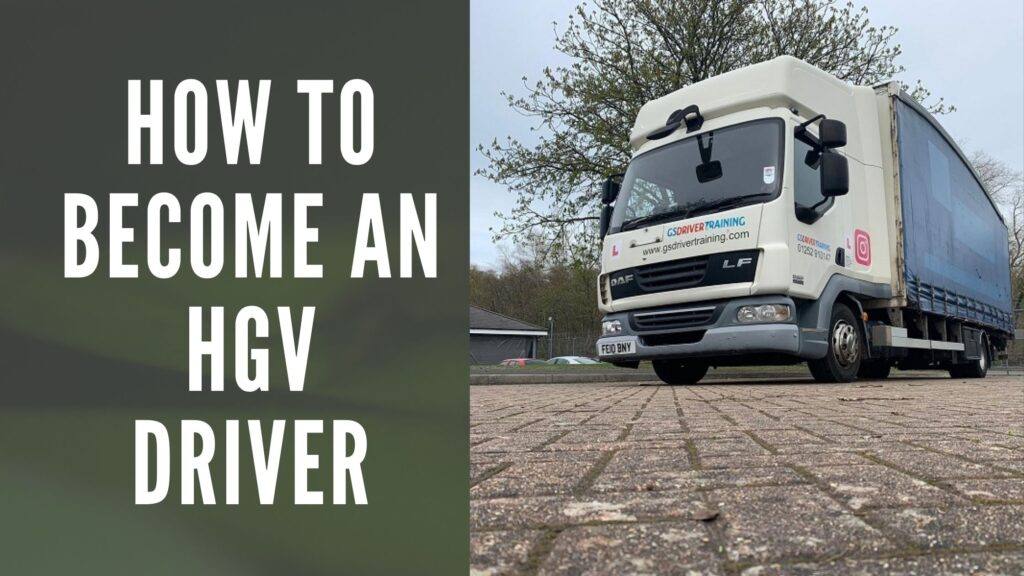 The first truck was made by German Gottlieb Daimler in the year 1869. It was a four-horsepower engine with two forward gears and one reverse gear. This was the point in history that changed to the course of transportation. Because at that time the only mode of transportation was Train and it was not accessible to many people at many places.
Read more and you will clear your concepts about how to become an HGV driver? It was the add-on to the already booming industrialization. And now we can see that the driving industry is still booming and transportation is as relevant to the society as glaciers for freshwater.
If you want to be a part of the commercial driving industry, now is the right time. Who knows, maybe in a few years' drones and driverless trucks will take over the industry? Join the HGV Driver fleet and be a part of the vast growing trucking industry.
Essentials about How to Become an HGV Driver?
The very simple answer to the question of how to become an HGV Driver? Firstly you need to have a C+E class 1 driving license. The driving job may sound easy but it is not. You have to be responsible while driving and you need to give full dedication to your work. You have to travel long distances within a given framework of time.  
Getting your C+E driving licence is not everyone's cup of tea, but also not a difficult one. To clear this test you have to prepare for the theory and practical part. You need to be motivated and crystal clear about the goals you possess and what are the reasons you want to be a class 1 driver. 
People sometimes take a lot of time to clear the driving test but could not clear with so many attempts. Also, some people work hard with their training sessions and clear the test in one go. It's all a matter of learning the required skills and implementing them accordingly.   

C+E Driving Licence
First of all, you have to be a provisional car driving licence holder. And you need to be above 18 years of age to apply for the licence. You have to add three layers to get a C+E licence . You need to clear the C1 driving test which will authorize you to drive vehicles up to 3.5 tons.
To add this category you have to give a medical test, theory test, and practical test respectively. Both the exams are essential and you need to clear them at the same time. After you have cleared your C1 category exam you can then apply for the C+E category for this you may find the best HGV Driver Training School   around you for genuine training so that you clear the examinations in one go. Applying for the C+E category is the same.
As you have to give two exams with your medical test which needs to be cleared as you have to be physically fit for the job. After you have completed every required test you need to clear the CPC test which you will have to give every 5 years to be eligible as an HGV driver.
The Detailed Version of Steps for Being an HGV driver
Being an HGV driver is not a big task, it is just a proper process that is designed so that the person applying for a licence has the required knowledge so that safe and legal driving is ensured. It is a process that includes proper training for both theory and practical training and further having needful driving tests and then following the further documentation for the licence. The first part of the steps that are followed when thinking about how to become an HGV driver is:
1. HGV Driver Training: The very initial step for being an HGV Driver is HGV Driver Training. The training helps you in giving a clearer picture of what is needed in HGV driving. You can have a more genuine approach to these driving-related things.
Training is classified into two major categories based on theoretical training and practical training. To be more specific these different types of training are part of the training module because of the driving test setup in this way. Read more and get to know about these two different modules in detail.
THEORY TRAINING
Theory Training is a measurement of your knowledge regarding the general driving areas which are considered important while driving. These general driving rules are first taught so that you have proper knowledge about different criteria which should be known before you start driving. 
Similarly, if you are opting for an HGV licence   then you need to go for part A and part B of the theory training that contributes towards general driving training. This includes basic rules and regulations, traffic rules, etc. Second part includes Hazard perception which is again an important part in commercial driving as in commercial driving there are a lot of risks associated.
Due to various reasons which can be the size of the vehicles, load that is carried in the vehicle and various other reasons which include risks. This theory training gives you a view about what problems and what are the needful things that are important while driving.      
PRACTICAL TRAINING
Practical Training is the next module integrated with theory training. This Training helps you in inculcating various driving skills that are needed when you wish to drive safely and legally. Practical Training helps you know what are the situations that can be associated with driving. Practical Training is a way to improve your driving skills. 
And teaches you to drive in different conditions which may include weather conditions that are natural or maybe genuine man-made conditions. Natural conditions are variable like heavy rainfall, heavy winds, less or more availability of light due to weather conditions. Some man-made conditions are high traffic, off-roading conditions, broken roads, etc. Read more to know about how these training modules are helpful while taking up driving tests. 
1. HGV Driving Test: The HGV driving test includes various important aspects that are related to training as well as the add on which is the medical test. HGV Driving test is a three-tier process designed according to the needs that are considered important by the authority. These are medical tests, theory test, practical demonstration test, and general practical test. To be more specific the first module of the driving test is the
MEDICAL TEST
Medical test is kept to check if you are feasible for driving according to your health conditions or not. A medical test is a general checkup associated with the concerned doctor provided by the authority.
THEORY TEST
The theory test is the second part of the driving test which is important to check. As you should have proper knowledge and criteria that you need to follow while driving is understood to you or not. The theory test includes two parts which are based on general driving knowledge and hazard perception.
The general driving test consists of 100 questions out of which 85 are to be correctly answered.  In hazard perception theory test there are 100 questions out of which approximately 65 are to be correctly answered. These two parts help you showcase your knowledge about different driving criteria.        
PRACTICAL DEMONSTRATION TEST
Practical demonstration is the genuine explanation test of the different criteria while driving that is based on vehicles, situations, etc. It is followed by the major practical test that includes your practical driving methods, are you able to follow different rules and regulations that are associated while driving, are you aware of the vehicle you are driving and can drive the vehicle accurately meeting up the authorized criteria. So that you can be given the genuine driving licence to secure the legality of the driving and also to secure the safety on the roads.  
Also Read: How to get a HGV Licence for free, HGV Licence Cost
You might be Interested In: