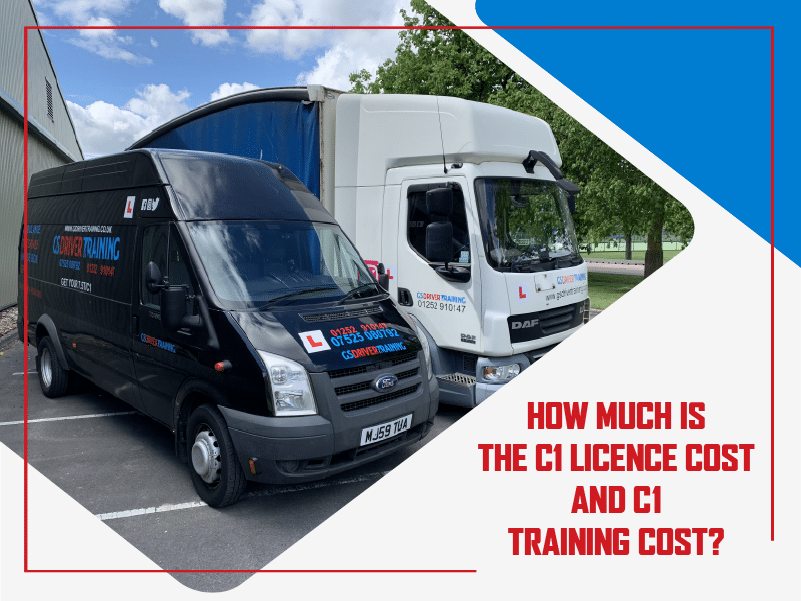 Licencing and training are the two major aspects of driving. People who love to drive usually go for driving careers. Driving is nowadays very trending as it serves as a mode of employment to many people.
Driving is adventurous as one gets to know about the different types of vehicles, their functionality, and much more about the pieces of machinery.
C1 Driving gives you great exposure to different places wherever you go and a different feel of driving as every place has different types of roads and traffic that are why tests and training are set up for all types of roads and traffic volume. Training includes basic modules based on tests like practical and theory training   further C1 licence needs a cleared test that includes medicals, theory, and practical tests.
Training and tests may be taken unnecessarily by some people who may be those who know the driving in and out but one should keep in mind all the aspects, all the types of people who are driving. Because not everyone is aware of the exact rules and regulations, not everyone has a good driving skill set.
The ones who are not having proper knowledge need proper training as well as proper test after training so that there is ensured safety for them as well as their fellows who are driving their vehicles on road. Training and driving test is at least the security of the things that you are aware of the rules and also know how to implement them in their driving. 

Some Basic Prerequisites
The training and examination modules are almost similar to give you the exact criteria of the test. So that you can clear those criteria in one go. You need not wait for the licence too long once you are clear with your training and driving test which consists of basic three modules which are although very important in driving. The very first module is the medical test which ensures that you are medically fit for driving or not.
Further, You need to clear the second module that is the basic theory test based on different assumptions, rules and safety measures, driving techniques to check if you are aware of the things that you need to implement in your driving. The last module is the practical test after the clearance of the theory test.
The practical test is kept to ensure that by knowing the rules and regulations through which you cleared the theory examination, are you able to implement those in your practical test wisely or not.Read more if you want to know about the C1 Licence cost or C1 training cost.
Brief about Theory Training
Theory training is set up to give you perfect knowledge for driving. So that you are aware of every knowledgeable part included in that, in and out knowledge of the vehicle and its operations
Brief about Practical Training
Practical training is most important in the range of driving tests as this aspect is needed to check your driving skills. This test changes according to the vehicle as in some vehicles like trailer coupling and recoupling of trailers is also part of the practical test.
When the training part is done further you opt for the testing part. It is almost the same as you do in training because training modules are designed similar to the final test. The final test follows the basic procedure i.e. medical, theory test , and practical test. These three are the basic aspects used in every vehicle driving test whether an HGV or a small scale vehicle.
Process for getting C1 licence in the UK
Licencing is the most important part required in legal driving. Licencing process is short and crisper if you have the proper knowledge and learning about driving. and becomes a long-tailed process. If one is not aware of the basic aspects required for the same. The licencing process first needs proper training. Then a proper government authorized test is to be taken to get a complete C1 licence.
In the training process, every basic need is fulfilled according to the final test strategies  giving a  genuine exposure to the examination. Training is done for several days according to a person's capability and experience in driving. With successful completion of a training according to the aspects of the licencing process then three major factors considered during examination are:
Medical required for C1 licence
Medical is the first and major part of any driving test. As it is said that health should always be first, similar is the case. While opting for a driving licence you must be fit according to the laws made by the officials for driving purposes. As in C1 training, the eyesight test is the main priority which is taken to check your productivity. Also it is part of the tests during the driving test. If you can read a 20 meters distant number plate provided you can wear glasses if needed.
C1 Licence Theory Test
After the medical, theory test comprises 100 multiple choice questions from which you need to do 85 questions right to clear the theory test according to the rules and regulations. This test is done to check your knowledge about the driving field which is important to get practical training.
Practical C1 Training
After the theory test, a practical test is to check your driving skills. So that you can control the vehicle according to the various conditions like roads with maximum traffic, rough roads, sloped roads, etc. If you are making mistakes in any of the techniques one can resolve it with training and further perform best in the test.
C1 Training Cost
Training in C1 licencing is important and for the C1 Training cost please go through the link: https://www.gsdrivertraining.com/c1e-driving-courses-7-5-tonne-with-a-trailer/ . According to DVSA (Driver and Vehicle Standards Agency). It is up to the person's capability and experience as for how much time one needs training.   
C1 Licence Cost
For the cost of the C1 Driving test please go through the link: https://www.gsdrivertraining.com/c1e-driving-courses-7-5-tonne-with-a-trailer/ . The one who needs a category C1 licence first needs to attain an L.G.V. passing theory certificate from an authorized Driving Standards Agency which comprises of 100 Multiple Choice Questions from which 85 must be correctly answered.
Renewing C1 Licence
According to the policies, there is no upper limit set on age for renewal of C1 driving licence. Initially, licence is issued up to the age of 50 Years, after that renewal is for five years each time. You can find detailed information on the renewal procedure of the licence here: https://www.gov.uk/renew-lorry-bus-coach-licence 
Some important steps in Licence renewal
Visit the nearest Office

Take the renewal application form from the concerned person. 

Correctly fill in the details.

Attach the needful copies of your expired driving licence .

 Do the required formalities as specified by the officials.
Age factor for all types of licence
The minimum age for driving any type of vehicle on the road lawfully is 18 years. At an early age, a learner's licence is provided with proper care and tests. It is better to follow the government rules in this aspect as it is risky on roads. If you are not following everything properly. 
Conclusion
The very basic conclusion that is generated from the C1 training cost and C1 licence cost is that training is a vital part of the further test and licencing. Training gives you a basic idea not only about practical driving but also the knowledge related to driving and vehicles is enhanced in a good way. It gives you practical exposure gives you an idea about the alignments theory knowledge is important to understand the various aspects of alignments.
Both theory and practical exposure at the time of training gives you a very clear picture about the test. This helps you in clearing tests with required numbers as in theory out of 100 questions 85 need to be correct. These can only be right if you study and gain the things required for this properly. On the whole, driving is a very great experience if one enjoys doing that as if you enjoy doing that you will enjoy C1 training as well as licensing process. 
C1 licence cost and C1 training cost are the two major factors due to which some people resist going for this. It is the basic process to get the best results for your driving experience. This write-up clears all your doubts and problems completely regarding the C1 licence.
Read more to know some frequent questions. These are asked by many people regarding C1 licence training and c1 licence examination and some other important aspects. These will help you gain more knowledge about the basic requirements and some prerequisites that will surely help you in all the basic requirements that are the medical test , theory test, and practical test, and further getting the c1 licence. Questions
How do I get a C1 driving Licence? 
To get a C1 Driving licence   one must clear the C1 licence test which also has some eligibility criteria that is 
18 years old.

Having Cat B license

If you have EU Licence. You will have to fill out a D9 form and then you get C1 Provisional Licence

Can read a number plate from almost 20 meters of distance (glasses can be used if necessary)

Should have almost 12 months of prior experience in driving

Before practical examination theory and medical is to be completed.
 How long does it take to get a C1 licence?
It will take a max of 15 days, and a minimum of 10 days after the practical exam. You will receive the complete C1 driving licence. Its earlier process is longer than the arrival of the licence at your place.
What's involved in the theory test of the C1 licence?
C1 driving licence includes theory test that is based over three major modules. Generally named as multiple-choice questions test, hazard perception test and a general case study related to the same. The multiple-choice questions are based on general driving. How safely you can drive the vehicles, and what all must be included in your driving to attain overall safety.
After how long does the C1 licence is to be renewed?
C1 licence and C1+E licence are also known as grandfather rights licence. Due to the reason that it must be renewed at the age of 70 years. After the first renewal after the age of 70, the licence needs to be renewed every 3 years.
What all is covered in a C1 licence?
C1 licence is the licence of driving a vehicle that is 3500 kilograms in weight, as that vehicle is under 7.5 tonnes in the gross weight criteria But it has a limit on what type of vehicle it is. So it is generally located that in C1 licence the vehicle can be a lorry, truck, or a tractor-trailer through which you can tow a smaller trailer.
What is included in the C1 licence test?
It includes a proper medical checkup followed by a theory test on different modules as discussed above.  The test starts practically which includes examining asking you questions on vehicle safety, and then a general reversing exercise-based test. Then the actual driving test is taken which includes 50 minutes to 1-hour driving on the public roads with different conditions as you learned in your training. That is different weather conditions, less or excess availability of light, excess traffic conditions, sloped roads, windy weather, etc.
How is the person eligible for a permanent licence?
You should firstly have a valid learner's licence.
You must apply after 30 days or within almost 180 days of the date of issue of the learner licence.
Be aware of all the rules and regulations, the basic skill set to clear the training and driving test.
Where do you need to approach to get the permanent licence?
Approach the nearest licencing authority to get the permanent licence.
Also Read: How to get a HGV Licence for free, HGV Licence Cost
You might be Interested In: