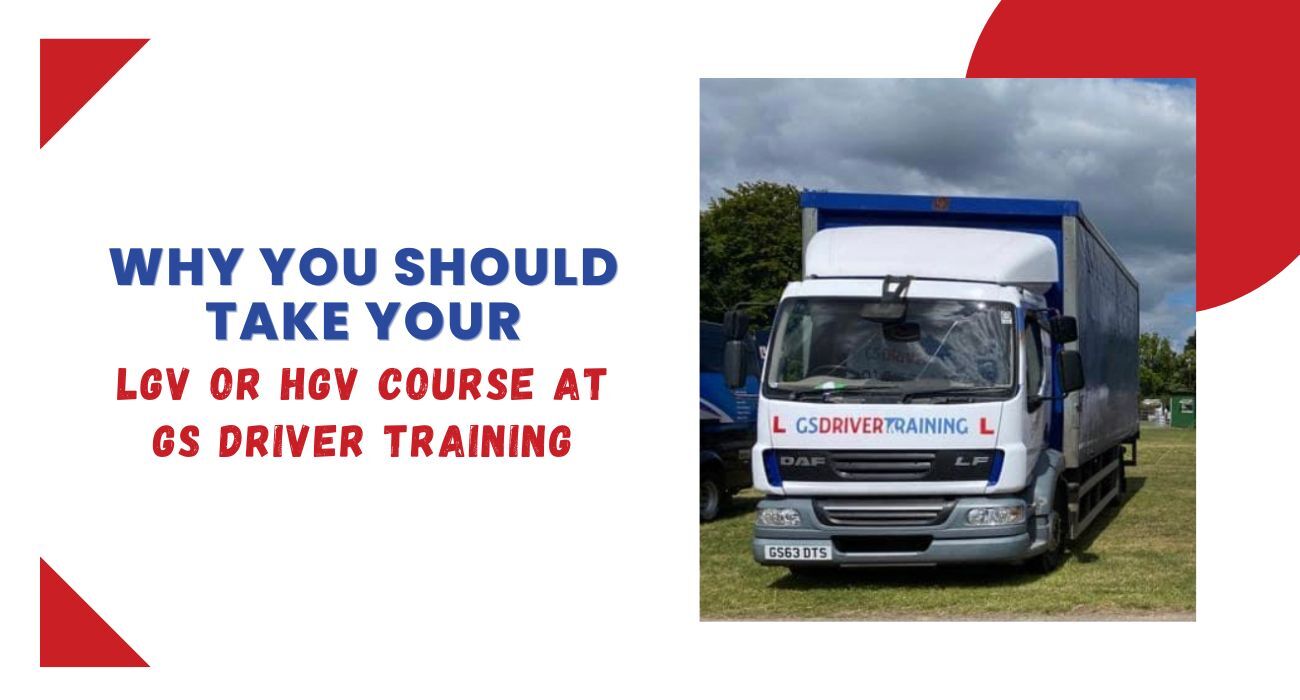 Besides, the company has a reliable test center at Guildford, which allows it to offer its services to candidates who are in Hampshire, Surrey, Berkshire, and its environs.
The instructors at GS Driver Training have one goal in mind—to train individuals to become competent and professional drivers.
If you are planning on taking an LGV or HGV course, GS Driver Training may just be the right place for you.
Why Choose GS Driver Training for Your LGV or HGV Course?
To get a better understanding of what the HGV course is all about, let us start by breaking down the acronyms. In simple terms, LGV stands for Large Goods Vehicle while HGV means Heavy Goods Vehicle.
The two terms can be used interchangeably in the UK and other countries that are part of the European Union. It is important to note that the UK withdrew from the EU in January 2020. 
An HGV licence can be used as an LGV license and vice versa when in these countries. Here are some of the reasons why you should consider registering with us.
1. High First-time Pass Rate
The driving lessons offered at GS Driver Training are not only of high quality but also reliable.
Moreover, the instructors will ensure that you cover the basics and other important lessons within the shortest time possible.
If you do everything correctly, you will be able to pass your driving test with the first attempt.
Additionally, the instructors are always ready to answer all your questions, so all your issues will be addressed in good time before taking the test.
2. Comprehensive Training
GS Driver Training is somewhat unique compared to most companies in the region in that it focuses on candidate's individual needs during training.
Plus, the HGV course covers a wide range of aspects that will help you become more confident when on the road.
At GS Driver Training, we not only train drivers how to pass theory tests but also offer practical skills that will make you feel safe when driving in harsh weather conditions.
The instructors will provide you with all the information that you may require, making GS Driver Training a go-to driver training company.
3. Affordable Pricing
Here at GS Driver Training, we are focused on providing candidates with top-class driver training services at low costs.
The amount that you will be required to pay will, however, vary depending on the duration and the type of HGV license that you want to get.
In fact, our company charges less compared to most driver trainers in the area. In addition to this, we provide you with a long list of driver courses that you can choose from.
Despite charging low course fees, GS Driver Training won't sacrifice the quality of the training that you will get.
You can as well spread the costs of the HGV training by going for the finance options. All you have to do is make a 10% deposit and you'll be set for the training.
4. GS Driver Training Offers HGV Courses to Organizations and Individuals
Our company has some of the best instructors in the region. Also, our team is made up of a large number of instructors, so we can comfortably offer training services to organizations and individuals alike.
The courses are offered at different levels, and we also ensure that the schedules favor all the registered candidates.
5. Effective and Efficient Training
As a company, we have earned a good name when it comes to training HGV drivers. Our instructors are not only skilled but also take pride in what they do.
Also, they have years of experience, so you can rest easy knowing that they will teach you everything that you are required to know.
GS Driver Training has helped many people pass their HGV driving test, and you could be next on the list.
The instructors are motivated, friendly, and cheerful. That being said, those who have trained with us before are always willing to come back to upgrade their license.
Over the years, GS Driver Training has gotten some good reviews, all thanks to our professional trainers.
What Type of Jobs Can I Get With An LGV or HGV License?
If you are a professional truck driver, an HGV license can help you take your driving skills a notch higher. In addition to this, an HGV license will provide you with endless job opportunities.
The jobs that you will get will highly depend on the type of license that you have and the years of experience under your belt. HGV driving jobs can be grouped into three major categories depending on the distance covered and the size of the vehicle being used.
-As the name suggests, these types of driving jobs require you to transport goods within a small locale/area. 
-The vehicles used in this category mostly require drivers with a Category C1 licence, but this may vary depending on the company that you are working for.
-Short-haul driving jobs are somewhat similar to local driving jobs, but the only difference is that the former covers a wider area compared to the latter.
-HGV drivers who take part in short-haul driving may transport goods to and from neighboring counties.
-Long-haul drivers often cover long distances when delivering goods from one place to another. Depending on the distance being covered, drivers can take up to weeks to reach their destination.
-At GS Driver Training, we also teach drivers how to stay focused on the road when covering long-distance journeys.
-Also, candidates get to learn basic vehicle maintenance, so you will be in a better position to solve most, if not all mechanical problems when on the road.
GS Driver Training the Place to Be
As you can see, our company has everything that you may need to kick-start your career in HGV driving.
Besides having qualified instructors, we also have different types of vehicles that will help you acquire the practical skills that you are required to have. 
Also Read: How to get Commercial Driving Licence in UK
You might be Interested In: