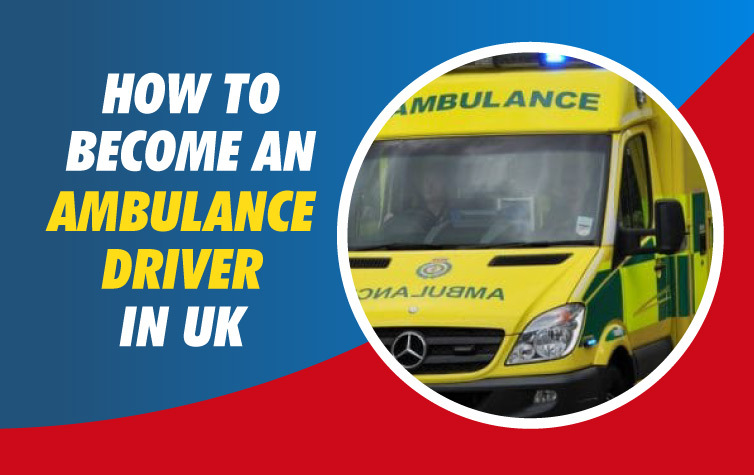 The traditional route in training to become a paramedic is to complete an approved university course. There are other routes you can take to become a paramedic; these include working as a student paramedic with an ambulance trust or doing an apprenticeship. It is always best to check your local ambulance service's website for more information on the required training. 
Becoming an ambulance care driver is another career to consider in providing a medical service. This role involves driving patients within the community to hospital appointments. You can call us to book your appointment for Ambulance Driver Training in the UK.
What Driving Qualifications do I Need to Drive an Ambulance?
To be able to drive an ambulance as a paramedic or an ambulance care driver in the UK, you will need to obtain a Class C1 on your driving license. This license means you can drive vehicles up to7.5 tonnes. 

How do I Get my C1 License?
You can begin to complete your C1 license by being over 18 years old and already holding a car driving license. If you passed your driving license before January 1997, you will have gained grandfather rights meaning you will not need to complete any additional tests. For anyone who passed after January 1997 will need to complete the steps below; GS Driver training can help with each step: 
1).  To begin the process, you must undergo a medical check and have the doctor complete a D4 medical form. This D4 form must be sent to the DVLA, and a D2 form requesting your C1 provisional entitlement. 
2). Once the provisional entitlement has been added, you must complete the two theory tests. One is a multiple-choice test, and the other is hazard perception. GS Driver Training can book these tests for you and provide revision material for you to use. 
3). After passing your theory tests, you can begin your practical training and examinations. The practical training will help you become a safe, confident vehicle driver, along with the teaching of manoeuvres. The 3a. reverse test must be completed before taking the full practical 3b. test. Upon completing the practical test, you can then send off for your C1 licence and begin your career in driving a large goods vehicle.
All You Need To Know About Driving A C1 Vehicle
FAQ
Q: What skills are necessary for driving a C1 vehicle?
A: Practical driving skills such as manoeuvring a large vehicle, avoiding hazards and other road users, and being aware of weather conditions and traffic patterns are necessary for driving a C1 vehicle. Other skills, such as following directions, understanding highway code, and correctly judging distances.
Q: How to improve driver safety?
A: Driver safety can be improved by undergoing a pre-trip inspection of the vehicle, following road rules and regulations, practising defensive driving techniques, and minimising distractions while driving. Also, having a valid driver's licence and vehicle maintenance can help prevent accidents and increase road safety. Also, getting the right C1 driving lessons and help.
Q: What is a category C1 driving licence?
A: A C1 driving licence is granted to those seeking to drive a medium-sized vehicle up to a gross weight of 7.5 tonnes. It can be obtained by passing the C1 driving test and getting a C1 licence. If you wish to drive a vehicle with a size between 3.5 tonnes and 7.5 tonnes, you must get a Category C1 Licence. You must also pass a test to get a C1 licence, which is a significantly harder test than getting a car licence. Once you have the licence, you can drive any vehicle or combination of vehicles, provided the maximum authorised mass (MAM) does not exceed 7.5 tonnes. The vehicles are typically used for short-distance goods transportation and delivery services. Being a C1 driver involves more responsibility than driving a car, as you must adhere to all safety regulations. You must also monitor the load your vehicle is carrying to ensure it does not exceed its maximum weight capacity. Overloading your vehicle increases the risk of an accident, so this is something all C1 drivers must be aware of.
Q: What are the eligibility criteria for obtaining a C1 licence?
A: To be eligible for a C1 licence, you must have a full UK driving licence, be over eighteen, and have a good driving record. You must also pass the C1 test, which includes a practical driving assessment and a theory test.
Q: What are the benefits of obtaining a C1 licence?
A: There are several benefits to obtaining a C1 licence, including the ability to drive a medium-sized goods vehicle; the flexibility to choose from various driving jobs; and the potential to earn a higher salary than light vehicles. It can also help improve job prospects, make it easier to find employment, and provide more excellent career opportunities.
Q: What types of C1 driving training are available?
A: A range of different training options are available for those seeking to obtain a C1 licence, including intensive courses, 1-to-1 training, and simulated driving courses. Choosing the right training option for your experience level and goals is essential.
Q: What is ambulance driving training?
A: Ambulance driving training is a specialised form of driver training that prepares individuals for driving an ambulance in an emergency. Resources offered by ambulance services usually provide this training and involve a combination of theoretical and practical driving skills.
Q: What types of courses are involved in ambulance driving training?
A: Ambulance driving training involves courses on hazard awareness, defensive driving, emergency response driving, and road safety. There may also be courses on emergency vehicle operations and operations management.
Q: What requirements must be fulfilled to obtain an ambulance driving licence?
A: You must pass specialised driving tests to obtain an ambulance driving licence. These tests can vary from country to country but may involve manoeuvring around obstacles, driving in hazardous conditions, and responding to emergency calls.
Q: What are the advantages of ambulance driving training?
A: Ambulance driving training offers a range of advantages, including increased confidence and skills in dealing with emergencies, improved ability to respond quickly and safely in an emergency, and increased knowledge of the regulations and protocols surrounding ambulance driving. Additionally, it can open up potential opportunities for higher-salary jobs in emergency services.
Q: What Are The Different Types of C1 Driving Courses?
A: Driving C1 vehicles requires specialised training and courses. Upon completing the course, drivers receive a 'C1 category' certificate which permits them to drive larger vehicles than regular cars. Popular C1 courses include 'Rigid Vehicle Theory and Practical Driving Course' and 'DVSA Large Vehicle Training'.
Q: Taking The category c1 Driving Test
A: After completing the course, candidates must pass the C1 driving test before they are issued a C1 licence. During the test, candidates must demonstrate their knowledge and skill in driving larger vehicles. As part of the test, candidates must accurately complete a pre-determined driving route and demonstrate safe manoeuvres.
Q: What Is Included In The Test?
A: The C1 driving test will include a variety of questions and exercises which will assess the driver's ability to drive a large vehicle competently. Specific exercises may include reversing around a corner, hill start, emergency stop, slalom and controlled stop.
Q: Preparing For The Driving Test
A: It is advisable for drivers to prepare for the C1 driving test to ensure success thoroughly. Preparation should mainly focus on revising the Highway Code, safety guidelines and rules of the roads, which will allow the driver to confidently answer the examiner's questions and demonstrate safe driving practices.
Q: Medical Requirements
A: To legally drive a C1 vehicle, the driver must be considered medically fit. As part of the application process, the Driver and Vehicle Licencing Agency (DVLA) require medical evidence of the driver's fitness to drive.
Q: What Is A Medical Requirements Assessment?
A: A medical requirements assessment is part of the DVLA medical check process for drivers. The medical examiner will assess the driver's health during the screening to ensure their driving fitness. This assessment may include medical history, physical examination and vision tests.
Q: What Is A Driver Medical Exam?
A: A driver's medical exam assesses whether a person is medically fit to drive a C1 vehicle. The driver will be evaluated for physical and psychological conditions that could impair their driving ability.
Q: What Do I Need to Bring to the Medical Exam?
A: It is essential that the driver brings the correct paperwork to the medical exam. Documents required include photographic identification, a Council Tax statement or utility bill, a registration form and a signed letter from the medical examiner confirming the appointment.
Q: What Documents Do I Get Once I Pass The Driving Test?
A: Once a driver successfully passes the C1 driving test, they will be issued a C1 driving licence. They will also be given a C1 certificate of professional competence along with the licence. The document confirms that the driver is qualified to drive larger vehicles than those covered by a standard car driving licence.
Q: What Are The Benefits of Having a C1 Driving Licence?
Having a C1 driving licence comes with a variety of potential benefits. For starters, a C1 licence holder is legally entitled to drive any vehicle classed as C1, such as an ambulance or a lorry uo to 7.5t. Furthermore, having a C1 licence on your CV may grant you employment opportunities with employers that operate such vehicles and businesses. The skills and knowledge you gain from obtaining a C1 licence, such as emergency road strategies and passenger etiquette, will also be useful in many jobs. Additionally, with a C1 licence, you are eligible to upgrade to a higher category of vehicle in the future. All in all, though acquiring a C1 licence may require some time and dedication, it could ultimately be a great benefit for your career.
Q: What do you need to drive a C1 vehicle?
The minimum age limit for driving a vehicle within the C1 category is eighteen years old, and it requires the driver to possess a valid Category B (car) driving license. You can legally drive any vehicle within the C1 category with a maximum authorised mass (MAM) of up to 3,500kg. However, if you wish to drive vehicles that exceed 3,500kg but are less than 7,500kg, you will require a C1 license.
Q: What can I drive with C1E on my licence?
With a Category C1+E licence, you can drive any vehicle up to 7.5 tonnes Gross Vehicle Weight (GVW). This includes vehicles such as large vans like the Ford Transit and specialist vehicles such as those used in refrigerated deliveries. In addition, you will also be allowed to tow trailers or caravans behind your vehicle up to a weight of 750 kg (GVW), providing the combined weight of the vehicle and trailer remains within the 7.5 tonne limit. The C1+E allows you a much greater range of vehicles than with a basic C1 licence. As with all categories of HGV licences you will need to renew your entitlement every five years. Before renewing you will need to pass a medical assessment and the Driver Certificate of Professional Competence (CPC) theory and practical tests.
Q: Can you drive a C1 with a normal licence?
A C1E licence will enable you to drive a medium-sized goods vehicle of up to 7.5 tonnes of maximum authorised mass (MAM), often referred to as a 3.5 tonne van. This will usually be a flatbed lorry, pickup truck, box van, or Curtain side van . In the UK, the vehicles generally have up to 16 passenger seats and are sometimes referred to as minibuses. They must also be fitted with the correct safety equipment such as fire extinguishers, speed limiters, and rearview mirrors. Generally speaking, C1E licence holders cannot drive any vehicle above 3.5 tonnes, as this would require a C licence.
Also Read: What is Driver CPC Training?
You might be Interested In: