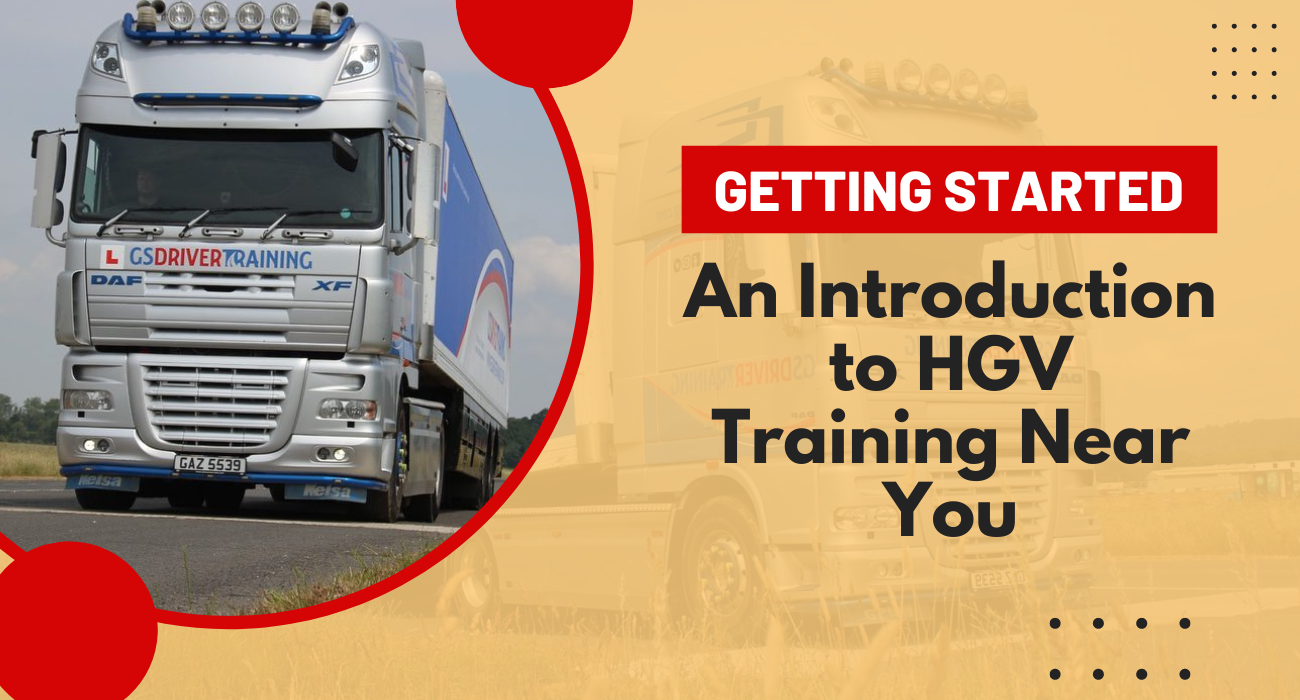 Introduction
Welcome to our blog, which is all about HGV training near you! HGV training is a great way to equip yourself with the necessary skills and qualifications to start a career in lorry and class 1 HGV driving. We'll be exploring all the details you need to know, from the cost of an HGV licence to preparing for and learning the ropes of HGV driving, so you can be well prepared when taking the wheel of a big rig.
We'll also introduce some of the best HGV training centres near you and provide tips and advice on finding the right HGV training course for you. So whether you're a newbie looking to drive a HGV for the first time or an experienced driver wanting to refresh your knowledge, this blog will cover you. Let's get started!
Overview of HGV Training
HGV (Heavy Goods Vehicle) training is designed to give prospective drivers the skills and knowledge required to safely and legally operate HGVs of various sizes. It covers a range of topics, including principles of driving, vehicle manoeuvres, vehicle handling in different road conditions, loading and unloading, and vehicle maintenance.
The tuition for HGV training often takes place in traditional classroom settings, but it can also be done using a combination of online and practical on-the-road tuition. Different HGV training courses are often tailored to suit particular types of vehicles, such as long-distance haulage, short-distance haulage, recovery, and emergency services vehicles.
Depending on your experience and level of qualifications, you can choose to take either the full training course or a refresher course. When looking for HGV training in your area, it's important to make sure that it is offered by a certified driving institute to ensure that you receive quality tuition.
How to Find HGV Training Near You
If you're looking to become a qualified HGV driver and want to get started as soon as possible, finding HGV training near you can be the first step in achieving your goal. With the right kind of instruction, you can obtain all the necessary skills to drive a lorry, truck, or other large goods vehicle on the roads. So if you're seeking the best and easiest way to gain the necessary training, here are a few tips on how to find HGV training near you.

Start your search by searching online for HGV driver  training providers in your area, ensuring you read through their reviews and find one that meets your needs. You may also want to enquire locally at lorry businesses to find out if they offer courses or have recommendations for providers. Once you have done your research, contact the training provider to receive all the information, including the duration of the course, the cost involved, and the documents required to enrol.
Keep in mind that if you plan on working as an HGV driver, you'll need to obtain a special category of license. Once you have successfully completed your training and are ready to take the driving test, you'll be fully qualified and ready to get behind the wheel.
Identifying a Suitable Course
Before you can start your career as a lorry driver, you need to find a suitable training course. Always look for an established and reputable course provider that meets your specific needs. Consider the hours of training needed, such as the Driver CPC, which is mandatory for lorry and truck drivers and also other subjects in order to become a qualified driver of HGVs.
When selecting your course, pay attention to the details and ensure that the underpinning knowledge and practical skills are taught before signing up. That way, you can be confident that, upon completion of the course, you have the knowledge and skills necessary to become a successful HGV driver. If it sounds too good to be true then do more research as some providers are only interested in taking your money for you later to find out you have been let down again and again.
Types of HGV Training Near You
If you're looking to become a professional HGV driver, you'll need to find out what types of HGV training are available near you and which one is going to be the best course for your needs. You can look for courses in LGV Driver Training, Professional Driver Certificate (PDC), HGV Advanced Test, and Class 1 or 2 driver training. Depending on the type of job you want to do and your location, you may also find courses in HGV driver CPC, Medical CPC, Digital Tachograph, Motorway Driving and Refresher Training.
There are even courses for those already with experience in the industry, such as Tippers, Low Loaders and Electric Vehicles. It's worth researching the different types of HGV training near you so that you can get the best and most suitable course for your needs.  Lorry driving has lots of different rolls so have a think which one might suit you best.
Class 1 HGV Training
Class 1 HGV Training is a highly sought-after qualification, enabling you to progress your career as a professional driver working with HGVs.  At GS Driver Training, we understand that you need to feel confident and prepared to take your Class 1 HGV Training, so we'll provide you with the latest up-to-date training packages to ensure you make the most of your journey to obtaining the licence.
We'll take you on a step-by-step journey to earning your licence through a series of emails, short courses and individual lessons, making sure you've got all the knowledge and know-how to be effective and efficient once you're on the road. Keep an eye on our website and contact us to learn more about our fantastic Class 1 HGV Training programmes.
Other Training Types
If you're interested in becoming a professional bus driver, then consider obtaining a PCV bus licence. This licence will enable you to legally drive passenger-carrying vehicles, which can include buses, coaches andminibuses – the range of vehicles you will be able to drive depends on the type of training you have received. Depending on your experience, the process of obtaining a PCV bus licence can range from a few days to several weeks, with qualified and experienced drivers having the shortest training time, as they require fewer hours of driving experience before they can apply.
You must be at least 21 years old to apply, and your training will include comprehensive instruction on drivers' hours, the unladen weight of vehicles, and vehicle safety regulations, as well as an understanding of the Bus driving experience and the regulations you must adhere to when driving a vehicle. Once you are qualified as a driver, your driving time will be strictly monitored by the Driver and Vehicle Standards Agency, so it's important you understand the rules and regulations set out by them.
HGV Licence Cost
One of the most important things to consider when looking to start HGV (Heavy Goods Vehicle) training is the cost. Depending on the kind of licence you're looking to get, such as C1, C or CE, your HGV licence cost can depend on the training centre and the amount of time involved in the training.
Most HGV training courses will include costs such as theory and practical tests, medicals and registration with the Driver and Vehicle Standards Agency (DVSA). Prices can generally range anywhere from a few hundred to a few thousand pounds, so it's important to shop around and compare offers when looking to get your HGV licence.
What to Consider Before Registering for HGV Training
If you're looking to get your HGV driving licence, it's important to do your research and make sure you're signing up with the right training provider. One of the most important things to keep in mind before you register is to avoid booking with brokers. Investigate the training school directly, and make sure it is an approved centre and has a good level of reputation and quality training materials.
Make sure that they offer the type of HGV courses you are looking for and the type of vehicles that you would be likely to drive in the job you plan to do after you complete your training. Be sure to ask questions about the quality of the course materials and resources you will be provided with and find out what support and guidance the school can provide throughout the duration of the course.
Practical Training
Practical training is an important part of HGV training near me. Many people dream of becoming lorry drivers but are daunted by the prospect of learning the complex rules of the road and manoeuvring huge trucks. The good news is that practical training courses are now available to help you get to grips with this daunting task. Through practical training, you will learn how to handle vehicles of all sizes safely, as well as get some hands-on experience with each of the different classes of trucks.
Driving Tests
If you're thinking of taking an HGV driving test, there's no time like the present! This essential qualification is the key to unlocking a world of opportunities in the commercial vehicle sector. Taking your test can be daunting, so it's important to find a reputable and experienced HGV training provider near you to support and prepare you for success. With the right training program, you can gain the knowledge and confidence required for a successful test and embark on a successful career in the HGV industry.
Theory Exam
HGV driving tests can be a daunting prospect for even the most experienced drivers. The theory exam, in particular, is seen as a difficult hurdle to overcome, and it's important to be prepared for the HGV theory test before you take it. Thankfully, there are plenty of driving instruction services available in the UK which can help get drivers up to speed and provide the necessary information for passing the test. 
Whether it's one-on-one instruction or a course-based learning process, these driving instructors will help you understand the questions posed in the questionnaire and familiarise you with the highway code and regulations for HGV drivers. No matter what your situation, an experienced HGV instructor is the best way to approach the theory test and give you the best chance of succeeding.
Practical Exam
HGV driving tests are practical exams that must be passed in order to qualify as an HGV driver. HGV driving tests are designed to enable drivers to demonstrate their ability to safely and reliably operate a large vehicle. It is important to ensure you choose the right training provider for HGV driving tests, and you can do this easily by researching HGV training near you.
The HGV driving test usually consists of an independent driving assessment, vehicle safety questions and an element to assess the driver's ability to manoeuvre the vehicle. Passing an HGV practical exam is a key step to becoming a qualified lorry driver and enabling you to hit the open road.
Advice for New HGV Drivers
If you're starting with HGV driving, you should be aware of the legal requirements and driving techniques you'll need to be successful. Getting the appropriate training and understanding the laws and regulations are essential on your journey to becoming a qualified HGV driver. It would be best if you also acquainted yourself with the location of the nearest HGV training near you to ensure you are learning at a convenient location.
This will help you get the most out of your training program and understand the roadways in your area. The more equipped you are before starting, the better your chances of achieving success.
Also Read: What's the Difference Between LGV and HGV
You might be Interested In: